You are here
September 13, 2016
Detecting bacterial infections in newborns
At a Glance
Researchers tested an alternative way to diagnose bacterial infections in infants—by analyzing RNA biosignatures from a small blood sample.
The preliminary findings may lead to a faster and more accurate diagnostic method than those currently available.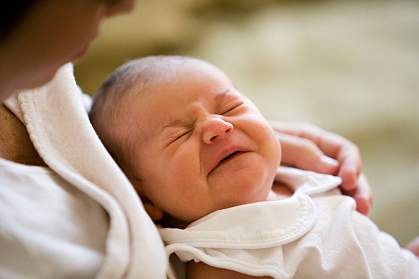 Purestock/Thinkstock
Fever in young infants may be caused by bacterial infections. These include blood infections (bacteremia), urinary tract infections, and brain or spinal fluid infections (bacterial meningitis).
Determining whether an infant has a bacterial infection currently involves sizable costs and risks. A health care provider must obtain samples of blood, urine, and cerebrospinal fluid, which can require invasive procedures such as a lumbar puncture (spinal tap). The samples are then cultured to grow and identify bacteria. While waiting for test results, the infant may be hospitalized or given antibiotics that can turn out to be unnecessary.
When bacteria infect a person, they trigger the immune system to turn on certain genes, thereby creating a distinct "biosignature." In adults and older children, diagnostic tests are able to distinguish between bacterial and viral infections by analyzing the immune system's response. But it's been unclear whether this approach might also work in infants, since their immature immune systems might not generate a measureable response.
A team led by Drs. Prashant Mahajan at Children's Hospital of Michigan, Nathan Kuppermann at University of California Davis Medical Center, and Octavio Ramilo at Nationwide Children's Hospital in Columbus, Ohio, set out to determine whether they could define an RNA biosignature in infants to diagnose bacterial infections. The study was funded in part by NIH's Eunice Kennedy Shriver National Institute of Child Health and Human Development (NICHD). Results were published on August 23, 2016, in JAMA.
The researchers enrolled more than 1,800 infants who were seen in 22 different emergency departments that were part of the Pediatric Emergency Care Applied Research Network (PECARN). The infants had fevers, were 2 months of age or younger, and had a blood sample taken.
The team first defined potential gene sets for biosignatures by analyzing blood samples from feverish infants, including 89 with bacterial infections and 190 without. A comparison group included 19 healthy non-feverish infants. The analysis identified a biosignature of 66 genes that could distinguish infants with a bacterial infection from those without.
To validate the accuracy of the RNA biosignature, the scientists analyzed blood samples from a second set of feverish infants. The biosignature proved to be 87% sensitive, correctly identifying samples with bacterial infection. The researchers further identified a set of 10 genes that could distinguish infants with bacteremia from those without.
"The development of a fast and noninvasive diagnostic tool holds promise for better outcomes and lower treatment costs for young infants with fevers of unknown cause," says NICHD's Dr. Valerie Maholmes, who oversees studies of pediatric trauma and critical illness. The approach will need to be further tested and validated in larger groups to assess its potential for clinical use.
Related Links
References: Association of RNA Biosignatures With Bacterial Infections in Febrile Infants Aged 60 Days or Younger. Mahajan P, Kuppermann N, Mejias A, Suarez N, Chaussabel D, Casper TC, Smith B, Alpern ER, Anders J, Atabaki SM, Bennett JE, Blumberg S, Bonsu B, Borgialli D, Brayer A, Browne L, Cohen DM, Crain EF, Cruz AT, Dayan PS, Gattu R, Greenberg R, Hoyle JD Jr, Jaffe DM, Levine DA, Lillis K, Linakis JG, Muenzer J, Nigrovic LE, Powell EC, Rogers AJ, Roosevelt G, Ruddy RM, Saunders M, Tunik MG, Tzimenatos L, Vitale M, Dean JM, Ramilo O; Pediatric Emergency Care Applied Research Network (PECARN). JAMA. 2016 Aug 23-30;316(8):846-57. doi: 10.1001/jama.2016.9207. PMID: 27552618.
Funding: NIH's Eunice Kennedy Shriver National Institute of Child Health and Human Development (NICHD) and the Health Resources and Services Administration.