You are here
September 13, 2016
Finding compounds that inhibit Zika
At a Glance
Researchers identified compounds that inhibit the Zika virus and reduce its ability to kill brain cells.
The findings could lead to novel therapies to help combat the Zika public health crisis.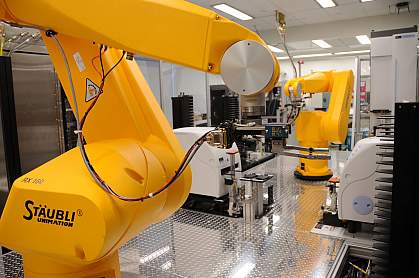 NCATS
Zika has been reported in more than 60 countries and territories worldwide. The virus spreads primarily through bites from infected Aedes aegypti mosquitoes. It can also be transmitted through sexual contact or from mother to child during pregnancy or around the time of birth. Infection during pregnancy can cause severe fetal defects. Zika virus also is associated with neurological diseases such as Guillain-Barré syndrome in infected adults. Currently, there are no vaccines or effective treatments.
A research group led by Dr. Wei Zheng at NIH's National Center for Advancing Translational Sciences (NCATS), in collaboration with scientists at Johns Hopkins University and Florida State University, tested for compounds that were effective against Zika virus. The scientists first developed a test using a protein called caspase 3, which is activated in brain cells upon infection with Zika virus and leads to the cells' death. The researchers also carried out a screen for compounds that protect brain cells from infection.
Using drug-screening robots, the scientists tested about 6,000 approved drugs and investigational compounds. The screening identified more than 100 molecules that appeared promising against Zika virus. The results were published online on August 29, 2016, in Nature Medicine.
An investigational drug called emricasan was most potent at preventing neural cell death. The compound is currently being evaluated in a clinical trial to reduce liver injury and fibrosis. Zika viruses persisted after emricasan treatment, so this potential drug protects nerve cells from death without inhibiting the Zika virus itself.
Two other promising compounds—niclosamide and PHA-690509—work by inhibiting replication of Zika virus. Niclosamide is approved by the U.S. Food and Drug Administration for treating worm infections in humans. PHA-690509 is a cyclin-dependent kinase (CDK) inhibitor. CDKs are crucial for regulating cellular processes and normal brain development, which can be disrupted by the Zika virus during replication.
Previous studies have shown that CDK inhibitors can block replication of other viruses, including herpes viruses and HIV. Thus, the team tested a set of structurally distinct CDK inhibitors for their effects on Zika virus infection. Nine proved promising. The most potent was an experimental drug candidate called seliciclib.
The team tested emricasan and PHA-690509 in combination and found that the compounds had an additive effect. They prevented both virus replication and cell death.
"Using the NCATS drug repurposing platform for emerging infectious diseases can help rapidly identify potential treatments for urgent needs such as the Zika virus," Zheng says.
While identifying promising compounds is an important first step, these potential drugs will need to be carefully evaluated before they could be used in the clinic, particularly during pregnancy. The researchers are now testing these compounds in a mouse model of Zika infection. The scientists are also further studying the compounds' mechanisms of action.
Related Links
References: Identification of small-molecule inhibitors of Zika virus infection and induced neural cell death via a drug repurposing screen. Xu M, Lee EM, Wen Z, Cheng Y, Huang WK, Qian X, Tcw J, Kouznetsova J, Ogden SC, Hammack C, Jacob F, Nguyen HN, Itkin M, Hanna C, Shinn P, Allen C, Michael SG, Simeonov A, Huang W, Christian KM, Goate A, Brennand KJ, Huang R, Xia M, Ming GL, Zheng W, Song H, Tang H. Nat Med. 2016 Aug 29. doi: 10.1038/nm.4184. [Epub ahead of print]. PMID: 27571349.
Funding: NIH's National Center for Advancing Translational Sciences (NCATS), National Institute of Neurological Disorders and Stroke (NINDS), National Institute of Allergy and Infectious Diseases (NIAID), National Institute on Aging (NIA), and National Institute of Mental Health (NIMH); Florida State University; Emory University; Brain and Behavior Research Foundation; New York Stem Cell Foundation; Maryland Stem Cell Research Fund; and Simons Foundation Autism Research Initiative.