You are here
July 9, 2019
Diversity enhances genomic analyses
At a Glance
Researchers identified 27 new genetic variants associated with a range of traits by exploring the genomes of non-European people.
The findings, which have implications for diseases and conditions like kidney disease and diabetes, underscore the need to include people of diverse ancestral backgrounds in genomic studies.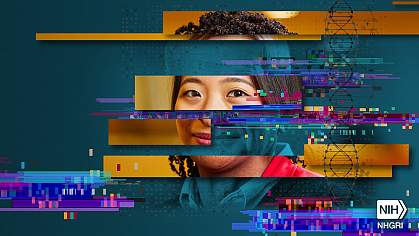 Ernesto del Aguila III
Researchers collect and analyze DNA from people to find links between genomic variants and certain health conditions. Most genomic studies have been based on DNA from people of European ancestry. However, variants detected in this group may not apply to those in other racial and ethnic groups.
A research team led by Dr. Eimear E. Kenny at the Icahn School of Medicine at Mount Sinai and Dr. Christopher S. Carlson at the Fred Hutchinson Cancer Research Center explored the value of analyzing the genomes of racial and ethnic minorities. The team collected data from nearly 50,000 people who did not identify as being of European descent. These included African American, Hispanic/Latino, Asian, Native Hawaiian/Pacific Islander, Native American, and other non-European people.
The work was funded by the National Human Genome Research Institute (NHGRI), National Institute on Minority Health and Health Disparities (NIMHD), and other NIH components. Results were published on June 19, 2019, in Nature.
The team identified 27 new genomic variants in the minority groups that weren't found in people of European descent. These variants were associated with a range of traits, including type 2 diabetes, chronic kidney disease, and smoking. For example, the analysis showed a strong link between a new genomic variant and daily cigarette usage in Native Hawaiian/Pacific Islander people. It was found in 17% of the Native Hawaiian people but was absent or rare in other groups.
The team also assessed whether disease associations in the European group could be detected in people from minority groups. They found that the frequency of genomic variants associated with certain diseases can differ by group.
The analysis was also the first to detect a known variant in hemoglobin in Hispanic/Latino people. Hemoglobin is a blood cell protein known for its role in sickle cell anemia. The variant was previously found in African American people. It affects how much blood glucose can attach to hemoglobin. It is important because it skews the results of diabetes tests and causes errors in treatment.
These findings underscore the importance of including people from different racial and ethnic groups in research studies.
"Previous articles have alluded to the need for multi-ethnic diversity in genome-wide studies, but this study is among the first to clearly delineate the scope of the problem, using detailed analyses of minority genetic samples," Carlson says.
Future studies will lead to a better understanding of how genetic variants differ across race and ethnicity. This information can be used to tailor treatments to maximize benefit for people in different groups.
Related Links
References: Genetic analyses of diverse populations improves discovery for complex traits. Wojcik GL, Graff M, Nishimura KK, Tao R, Haessler J, Gignoux CR, Highland HM, Patel YM, Sorokin EP, Avery CL, Belbin GM, Bien SA, Cheng I, Cullina S, Hodonsky CJ, Hu Y, Huckins LM, Jeff J, Justice AE, Kocarnik JM, Lim U, Lin BM, Lu Y, Nelson SC, Park SL, Poisner H, Preuss MH, Richard MA, Schurmann C, Setiawan VW, Sockell A, Vahi K, Verbanck M, Vishnu A, Walker RW, Young KL, Zubair N, Acuña-Alonso V, Ambite JL, Barnes KC, Boerwinkle E, Bottinger EP, Bustamante CD, Caberto C, Canizales-Quinteros S, Conomos MP, Deelman E, Do R, Doheny K, Fernández-Rhodes L, Fornage M, Hailu B, Heiss G, Henn BM, Hindorff LA, Jackson RD, Laurie CA, Laurie CC, Li Y, Lin DY, Moreno-Estrada A, Nadkarni G, Norman PJ, Pooler LC, Reiner AP, Romm J, Sabatti C, Sandoval K, Sheng X, Stahl EA, Stram DO, Thornton TA, Wassel CL, Wilkens LR, Winkler CA, Yoneyama S, Buyske S, Haiman CA, Kooperberg C, Le Marchand L, Loos RJF, Matise TC, North KE, Peters U, Kenny EE, Carlson CS. Nature. 2019 Jun;570(7762):514-518. doi: 10.1038/s41586-019-1310-4. Epub 2019 Jun 19. PMID: 31217584.
Funding: NIH's National Human Genome Research Institute (NHGRI), National Institute on Minority Health and Health Disparities (NIMHD), National Institute of Diabetes and Digestive and Kidney Diseases (NIDDK), National Cancer Institute (NCI), National Heart, Lung, and Blood Institute (NHLBI), National Center for Advancing Translational Sciences (NCATS), Eunice Kennedy Shriver National Institute of Child Health and Human Development (NICHD), and National Institute of General Medical Sciences (NIGMS).