You are here
September 6, 2016
Genetic misdiagnoses of heart condition in black Americans
At a Glance
A new analysis found that several genetic variations previously linked with a heart condition were harmless.
The misclassification resulted in a higher misdiagnosis of black Americans, highlighting the importance of using genome data from diverse populations.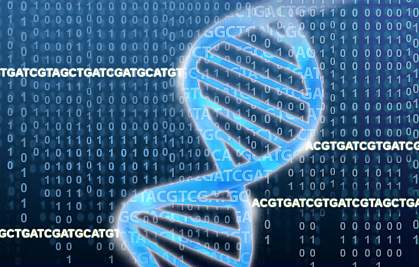 Jonathan Bailey, NHGRI.
Genetic testing can help identify people at risk for conditions associated with DNA sequence alterations. Testing may be performed to confirm a diagnosis, help tailor treatments, or determine whether someone might pass a genetic disorder on to future generations.
Hypertrophic cardiomyopathy (abnormally thick heart muscle) is the most common genetic heart disease in the U.S. and affects about 1 in 500 people globally. The condition may be diagnosed based on the presence of specific DNA variations. More than a third of people with the condition have known genetic misspellings.
Some people with the disease experience chest pain and shortness of breath. Others, however, have no symptoms. The disease can cause abnormal heart rhythms (arrhythmias) that can be life threatening. Thus, a person found to have a genetic variation associated with the condition—or whose parents have one—may be advised to make lifestyle changes, undergo further testing, and/or undergo treatment.
A team led by Dr. Isaac Kohane at Harvard Medical School more closely examined the connection between hypertrophic cardiomyopathy and the DNA variants that previous studies in the medical literature had associated with the disease. The study was funded by NIH's National Human Genome Research Institute (NHGRI), National Institute of Mental Health (NIMH), and National Library of Medicine (NLM). Results appeared on August 18, 2016, in New England Journal of Medicine.
The scientists analyzed DNA sequences from national databases that included more than 8,000 people. They identified 5 common DNA variants that were previously linked to hypertrophic cardiomyopathy. All 5 of these, the analysis found, were much more common in black Americans than in white Americans. All 5 were initially misclassified as disease-causing, they concluded; the new analysis found them likely to be harmless.
The team next reviewed clinical records from a genetic testing laboratory. They found that the 5 variants were present in many people who didn't have the disease. Several patients, most of African ancestry, had been diagnosed with hypertrophic cardiomyopathy based on the variants.
Simulations showed that such misclassification of genetic variations could be avoided by ensuring that even modest numbers of people from diverse populations are included in sequence databases used for evaluating the likelihood of disease. The researchers noted the need to keep clinicians and genetic counselors updated on variant reclassification.
"Our study powerfully illustrates the importance of racial and ethnic diversity in research," Kohane says. "Racial and ethnical inclusiveness improves the validity and accuracy of clinical trials and, in doing so, can better guide clinical decision-making and choice of optimal therapy. This is the essence of precision medicine."
—by Carol Torgan, Ph.D.
Related Links
References: Genetic Misdiagnoses and the Potential for Health Disparities. Manrai AK, Funke BH, Rehm HL, Olesen MS, Maron BA, Szolovits P, Margulies DM, Loscalzo J, Kohane IS. N Engl J Med. 2016 Aug 18;375(7):655-65. doi: 10.1056/NEJMsa1507092. PMID: 27532831.
Funding: NIH's National Human Genome Research Institute (NHGRI), National Institute of Mental Health (NIMH), and National Library of Medicine (NLM).