You are here
October 4, 2016
DNA vaccines protect monkeys against Zika virus
At a Glance
Two experimental Zika virus DNA vaccines developed by NIH scientists protected monkeys against Zika infection.
One of the vaccines is being evaluated in a Phase 1 human trial to assess the vaccine's safety and ability to generate immune responses in people.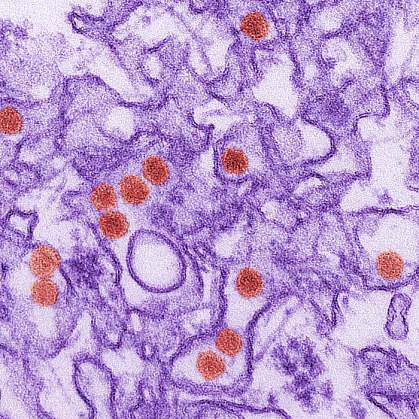 CDC/Cynthia Goldsmith
Zika virus has been reported in more than 70 countries and territories worldwide since 2015. The virus spreads mostly through bites from infected Aedes aegypti mosquitoes. It can also be transmitted through sexual contact or from mother to child during pregnancy or around the time of birth. Most Zika infections cause no symptoms or a mild illness lasting about a week. Zika infection during pregnancy can affect the fetus and lead to serious birth defects, especially those involving the developing brain. The virus also is associated with neurological diseases such as Guillain-Barré syndrome in infected adults. Currently, there are no vaccines or effective treatments.
NIH's National Institute of Allergy and Infectious Diseases (NIAID) is supporting the research and development of multiple Zika vaccine candidates. Scientists from NIAID's Vaccine Research Center developed 2 experimental DNA vaccines against Zika virus. The team, led by Drs. Theodore C. Pierson and Barney S. Graham, engineered circular pieces of DNA to contain genes that code for viral proteins. When the vaccine is injected into muscle, cells read the genes and make Zika proteins, which self-assemble into virus-like particles. The body then mounts an immune response to these particles. DNA vaccines have been shown to be safe in previous clinical trials for other diseases. They don't contain infectious material, so they can't cause Zika infection.
Both experimental vaccines, called VRC5283 and VRC5288, were engineered to prompt cells to produce the Zika virus structural proteins premembrane (prM) and envelope (E). Both vaccines included portions of an unrelated virus to improve protein expression. VRC5288 also included another portion of an unrelated virus to improve secretion of virus particles from cells. Results appeared online on September 22, 2016, in Science.
The researchers vaccinated groups of rhesus macaques using the 2 different Zika DNA vaccines in different doses. Most animals received 2 vaccinations. Eight weeks after the first immunization, the monkeys were exposed to Zika virus. Both vaccines were highly effective when given in 2 doses. All but 1 of the 18 animals that received 2 doses of vaccine (94%) had no detectable virus in their blood.
Researchers plan to evaluate both experimental vaccines in people to test a variety of regimens and doses for safety and immune responses. VRC5288 is now being tested in a Phase 1 clinical trial in volunteers in Maryland and Georgia. If the results are favorable, NIAID plans to initiate a Phase 2 trial in Zika-endemic countries in early 2017. The second vaccine (VRC5283) is awaiting a start date for a Phase 1 clinical trial.
These studies and others will inform the next steps of Zika vaccine development. The results will guide efforts toward both the short-term goal of identifying an intervention to protect women of child-bearing age in the current outbreak, and the long-term goal of vaccinating the general population of endemic regions and travelers to those regions.
Related Links
References: Rapid development of a DNA vaccine for Zika virus. Science 22 Sep 2016. DOI: 10.1126/science.aai9137.
Funding: NIH's National Institute of Allergy and Infectious Diseases (NIAID); Frederick National Laboratory for Cancer Research; and Kansas State University College of Veterinary Medicine.