You are here
February 4, 2020
Drug activates brown fat, improves glucose metabolism in healthy women
At a Glance
In a small study, a drug approved to treat overactive bladder boosted brown fat activity and improved glucose metabolism in healthy women.
The results suggest that brown fat could be activated to help treat metabolic diseases.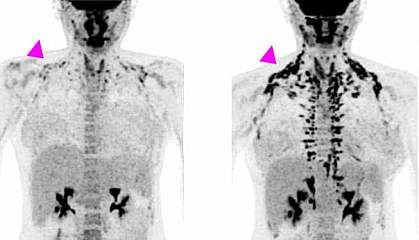 Cypess lab, Journal of Clinical Investigation
The majority of adults in the U.S. carry too much fat in their bodies and are now considered overweight or obese. The last several decades have also seen a spike in related diseases of metabolism, such as type 2 diabetes.
The human body contains more than one type of fat. White fat stores extra energy. Too much white fat, a characteristic of obesity, increases the risk of type 2 diabetes, high blood pressure, and other diseases. A less common type of fat, called brown fat, breaks down blood sugar and fat molecules to create heat and help maintain body temperature.
Researchers have been looking for ways to activate the body's brown fat. This could provide a way to fight the negative effects of weight gain. Long exposure to cold temperatures has been shown to boost brown fat activity but may not be a practical approach for most people.
In a new study, researchers led by Dr. Aaron Cypess from NIH's National Institute of Diabetes and Digestive and Kidney Diseases (NIDDK) examined whether a drug called mirabegron could increase brown fat activity in healthy women.
Mirabegron is currently approved by the Food and Drug Administration (FDA) for a condition called overactive bladder. The drug binds to a protein on the surface of cells that's thought to also stimulate brown fat and improve the ability of white fat to break down and release its stored fat into the bloodstream.
The team recruited 14 women, aged 18-40, of diverse ethnicities. The participants took 100 mg of mirabegron every day—twice the FDA-approved dose—for four weeks.
All of the women underwent positron emission tomography (PET)/CT scanning before treatment and at the end of the study, to measure brown fat activity. The researchers also measured the women's metabolism, cholesterol and other markers of heart health, and blood sugar and insulin sensitivity (the ability to use insulin properly and control blood sugar levels). Results appeared on January 21, 2020, in the Journal of Clinical Investigation.
After four weeks of treatment, the women's metabolism at rest was almost 6% higher, although their weight or overall body composition—the ratio of fat to muscle—hadn't changed. Brown fat activity, as measured by PET/CT, also increased during the study. The largest changes were found in women who had less brown fat activity to begin with.
At the end of the study, the women had higher levels of high-density lipoprotein (HDL, or "good" cholesterol) and other markers of a reduced risk of heart disease. Their insulin sensitivity increased by an average of 36%, indicating a reduced risk of diabetes.
The participants experienced increases in resting heart rate, blood pressure, and oxygen consumption by the heart while taking the drug. Two women reported mild side effects, including heart palpitations. The observed heart changes returned to normal two weeks after treatment stopped.
"The present study brings scientists closer to identifying a safe, effective way to activate brown fat and potentially treat metabolic disease," Cypess says. "Our next studies will help determine if mirabegron has metabolic benefits in a wider range of people, including older adults and people with obesity, and if similar drugs might produce these benefits without increasing cardiovascular risk."
Related Links
References: Chronic mirabegron treatment increases human brown fat, HDL cholesterol, and insulin sensitivity. O'Mara AE, Johnson JW, Linderman JD, Brychta RJ, McGehee S, Fletcher LA, Fink YA, Kapuria D, Cassimatis TM, Kelsey N, Cero C, Abdul-Sater Z, Piccinini F, Baskin AS, Leitner BP, Cai H, Millo CM, Dieckmann W, Walter M, Javitt NB, Rotman Y, Walter PJ, Ader M, Bergman RN, Herscovitch P, Chen KY, Cypess AM. J Clin Invest. 2020 Jan 21. pii: 131126. doi: 10.1172/JCI131126. [Epub ahead of print]. PMID: 31961826.
Funding: NIH's National Institute of Diabetes and Digestive and Kidney Diseases (NIDDK).