You are here
December 15, 2014
Ebola Vaccine Prompts Immune Response
At a Glance
An experimental vaccine to prevent Ebola virus disease was well-tolerated and produced immune system responses in all 20 healthy adults who received it.
Based on these results, researchers are planning further trials to assess the safety and effectiveness of the vaccine.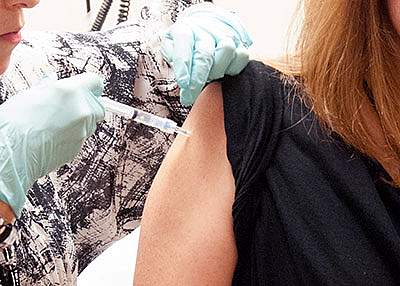 The Ebola virus spreads through direct contact with the blood or secretions of an infected person. The 2014 Ebola outbreak in West Africa is the largest Ebola outbreak in history. As of early December, more than 17,000 cases and 6,000 deaths have been reported. There are no approved drugs, but early care can improve survival. The scale of this outbreak has intensified efforts to develop a protective vaccine.
NIH's National Institute of Allergy and Infectious Diseases (NIAID) developed and tested 3 earlier investigational Ebola vaccine candidates that began Phase 1 clinical trials in 2003. The candidate Ebola vaccine in the current study was developed collaboratively by scientists at NIAID's Vaccine Research Center and GlaxoSmithKline (GSK) based on knowledge gained from those earlier studies.
The NIAID/GSK candidate vaccine contains segments of genetic material from 2 Ebola virus species, known as Sudan and Zaire. The genetic material is delivered by a carrier virus, or vector, called chimpanzee-derived adenovirus 3, which causes a common cold in chimpanzees but no illness in humans. Both the vector and the Ebola genetic material have been shown to be safe in humans in other studies.
Twenty volunteers between the ages of 18 and 50 participated in the phase 1 clinical trial, which took place at the NIH Clinical Center. Ten received an intramuscular injection of vaccine at a lower dose and 10 at a higher dose. The team reported their interim results online on November 26, 2014, in the New England Journal of Medicine.
All 20 volunteers produced anti-Ebola antibodies within 4 weeks of receiving the vaccine. Antibody levels were higher in those who received the higher dose vaccine. The vaccine also prompted the production of immune system cells called CD8 T cells, which are important to immune protection. Four weeks after vaccination, CD8 T cells were detected in 2 volunteers who had received the lower dose and 7 who had received the higher dose vaccine.
"We know from previous studies in nonhuman primates that CD8 T cells played a crucial role in protecting animals that had been vaccinated with this NIAID/GSK vaccine and then exposed to otherwise lethal amounts of Ebola virus," says first author Dr. Julie E. Ledgerwood. "The size and quality of the CD8 T cell response we saw in this trial are similar to that observed in nonhuman primates vaccinated with the candidate vaccine."
No serious adverse effects were seen in any of the volunteers. Two people who received the higher dose vaccine developed a brief fever within a day of vaccination.
This and other Ebola vaccine candidates continue to be evaluated by international research teams.
Related Links
References: Chimpanzee Adenovirus Vector Ebola Vaccine - Preliminary Report. Ledgerwood JE, DeZure AD, Stanley DA, Novik L, Enama ME, Berkowitz NM, Hu Z, Joshi G, Ploquin A, Sitar S, Gordon IJ, Plummer SA, Holman LA, Hendel CS, Yamshchikov G, Roman F, Nicosia A, Colloca S, Cortese R, Bailer RT, Schwartz RM, Roederer M, Mascola JR, Koup RA, Sullivan NJ, Graham BS; the VRC 207 Study Team. N Engl J Med. 2014 Nov 26. [Epub ahead of print]. PMID: 25426834.
Funding: NIH's National Institute of Allergy and Infectious Diseases (NIAID).