You are here
December 15, 2014
Unsafe Infant Bedding Use Still Common
At a Glance
Despite recommendations against the practice, many infants are placed to sleep with bedding that has the potential for suffocation and increases the risk of sudden infant death syndrome.
The finding suggests that many parents may not understand the risks of bedding over and under the baby.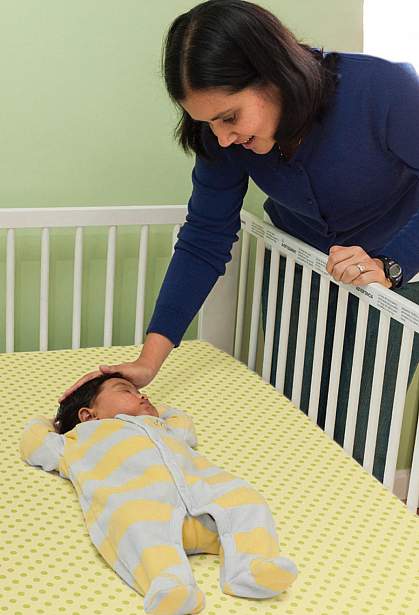 Bedding such as thick blankets, quilts, and pillows can block an infant's airway, leading to unintentional sleep-related suffocation. This type of bedding can also increase the risk of sudden infant death syndrome (SIDS), the unexplained death of a child within the first year of life.
Infants should be placed to sleep alone, on their backs, on a firm sleep surface, such as on a mattress in a safety-approved crib, covered by a fitted sheet. Soft objects, toys, crib bumpers, quilts, comforters, and loose bedding should be kept out of a baby's sleep area. The baby's bed should also be placed in the room where parents sleep.
To better understand trends in infant bedding use, a team led by Dr. Carrie K. Shapiro-Mendoza at the U.S. Centers for Disease Control and Prevention analyzed data from a large survey funded by NIH's Eunice Kennedy Shriver National Institute of Child Health and Human Development (NICHD). From 1993 to 2010, more than 1,000 caregivers were interviewed each year by telephone about the sleeping practice of infants less than 8 months of age. A total of about 19,000 caregivers were surveyed during the course of the study. The study appeared online on December 1, 2014, in Pediatrics.
The researchers found that while potentially unsafe bedding use declined from 86% in 1993-1995, it still remained high, at 55%, in 2008-2010. From 1993-1995 to 2008-2010, caregivers who reported that they covered an infant with thick blankets declined from 56% to 27%. Covering with quilts or comforters declined from 39% to 8%.
During this time frame, however, there weren't significant decreases in the bedding materials placed under infants. About 26% to 32% of caregivers reported placing blankets under infants, and 3% to 5% reported placing cushions under infants.
Bedding use was frequently reported among infants sleeping in adult beds, on their sides, and on a shared surface. The researchers found that caregivers of Hispanic and African American infants were more likely to use potentially hazardous bedding compared to caregivers of white infants. In addition, younger mothers were more likely to use this bedding than were older mothers, as were non-college educated mothers compared to college-educated mothers.
"Parents have good intentions but may not understand that blankets, quilts, and pillows increase a baby's risk of SIDS and accidental suffocation," Shapiro-Mendoza says.
"Parents receive a lot of mixed messages," adds study author Dr. Marian Willinger of NICHD. "Relatives may give them quilts or fluffy blankets as presents for the new baby, and they feel obligated to use them. Or they see magazine photos of babies with potentially unsafe bedding items."
NICHD's Safe to Sleep campaign advises against blankets or other coverings, and recommends other actions caregivers can take to help babies sleep safely.
Related Links
References: Trends in Infant Bedding Use: National Infant Sleep Position Study, 1993-2010. Shapiro-Mendoza CK, Colson ER, Willinger M, Rybin DV, Camperlengo L, Corwin MJ. Pediatrics. 2014 Dec 1. pii: peds.2014-1793. [Epub ahead of print]. PMID: 25452654.
Funding: NIH's Eunice Kennedy Shriver National Institute of Child Health and Human Development (NICHD).