You are here
November 23, 2015
End-of-life costs for dementia far greater than for other diseases
At a Glance
Health care costs for people with dementia were significantly higher in their last years of life than for those who died from other diseases, including cancer and heart disease.

The findings provide important insights into the financial burden that families and society may face for end-of-life care for older adults.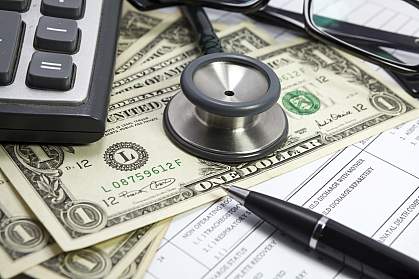 sripfoto/iStock/Thinkstock
Health care costs can rise dramatically as we age—especially for those who develop long-term conditions like heart disease or dementia. In the United States, most medical costs for people over age 65 are covered by Medicare, a federal health insurance program. But Medicare and other insurers may not cover key expenses, like home care services, medical equipment, and certain nursing home fees. Little has been known about the personal financial toll that end-of-life care can place on people with chronic disorders.
To learn more, Dr. Amy S. Kelley of the Icahn School of Medicine at Mount Sinai and her colleagues analyzed data on more than 1,700 Medicare beneficiaries, ages 70 and up, who died between 2005 and 2010. All had been participating in the Health and Retirement Study. Supported by NIH's National Institute on Aging (NIA) and the U.S. Social Security Administration, this national study collects detailed data on health and cognitive status, Medicare spending, insurance coverage, out-of-pocket costs, socioeconomic status, and cause of death.
The researchers calculated total health care expenses over the last 5 years of life for 4 groups of participants. One group likely had dementia. The other 3 groups died from cancer, heart disease, or another cause. Costs included insurance, hospitalization, medication, nursing home, hired helpers, and in-home medical care. Results were published in the Annals of Internal Medicine on November 17, 2015.
Average total health care costs for people with dementia was $287,038 in their last 5 years of life. This was significantly higher than the costs for those who died of heart disease ($175,136), cancer ($173,383), or other causes ($197,286).
The average Medicare expenditures in all 4 groups were similar, but other costs were consistently higher for people with dementia. Out-of-pocket spending for families of dementia patients averaged $61,522, which was 81% higher than for those without dementia ($34,068). Out-of-pocket spending for dementia represented 32% of total household wealth (measured 5 years before death), compared to 11% for those who died from other causes. The median out-of-pocket expenditure was especially high for those with dementia in African-American households, representing 84% of household wealth. The proportion was also greater for those with less than a high school education (48%) and for unmarried or widowed women (58%).
"This complex analysis provides an important picture of the risks that families face, particularly those with dementia and those who may be least able to bear major financial risk," says NIA Director Dr. Richard J. Hodes. "Such insights are critically important as we examine how best to support the aging of the U.S. population."
Related Links
References: The Burden of Health Care Costs for Patients With Dementia in the Last 5 Years of Life. Kelley AS, McGarry K, Gorges R, Skinner JS. Ann Intern Med. 2015 Nov 17;163(10):729-736. doi: 10.7326/M15-0381. Epub 2015 Oct 27. PMID: 26502320.
Funding: NIH's National Institute on Aging (NIA) and the American Federation for Aging Research.