You are here
November 23, 2015
Program for parents enhances kids' kindergarten success
At a Glance
A Head Start instructional program for parents helped young children build academic and social skills and retain them through the end of kindergarten.
The study shows that home visits can support classroom programs to reduce the achievement gap among children growing up in poverty.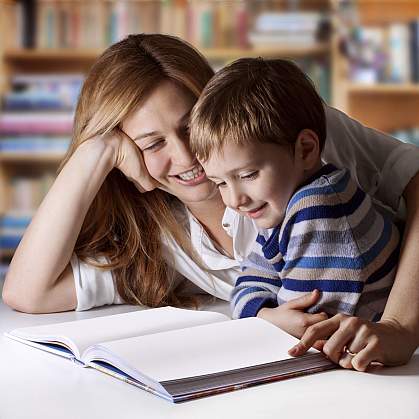 georgemuresan/iStock/Thinkstock
Research has shown that early childhood programs can provide benefits that last well into adulthood. The federal Head Start preschool program was designed to improve the school readiness of young children from low-income families. While generally successful, some of the gains from the program were found to fade during the summer break and while transitioning to kindergarten.
The Research-Based, Developmentally Informed Parent (REDI-P) program was designed to support the transition into kindergarten by encouraging parents to use specific parent–child learning activities and teaching strategies. To evaluate the program, a team led by Dr. Karen L. Bierman at Penn State University enrolled 200 four-year-old children and their parents. The families were recruited from 24 Head Start centers in urban and rural Pennsylvania counties. They had a median yearly income of $18,000; 39% of parents were single and 54% unemployed. Participants were 55% European American, 26% African American, and 19% Latino. Spanish-speaking families were offered materials in Spanish, but all opted for the English-language versions.
The researchers randomized 95 children to REDI-P and 105 to the control group. The REDI-P group received 10 home visits in the spring of the children's Head Start year and 6 during the fall of the kindergarten year. Parents were offered children's books with prompts to help them reinforce new information and engage the children in conversation about what they'd read. The families also received other materials designed to reinforce and build on classroom programming, including learning games and play activities. In addition to helping teach letters and simple words, the materials aimed to help children develop social skills, such as overcoming frustration and resolving conflicts. The control group families received 4 packets of math games in the mail without any further guidance.
The researchers assessed the children in the fall of the preschool year before the intervention, and at the end of kindergarten. The study was funded by NIH's Eunice Kennedy Shriver National Institute of Child Health and Human Development (NICHD). Results were published in the November/December 2015 issue of Child Development.
Children in the REDI-P group scored higher than those in the control group on several measures. They showed greater increases in vocabulary, literacy skills, reading fluency, and academic performance. They also scored higher on measures of social skills and their ability to function in the classroom. For example, children in the REDI-P group were rated higher by their teachers in adhering to rules, working independently, and following instructions.
"In many cases, school performance in kindergarten sets the pattern for later academic performance," says Dr. James A. Griffin, deputy chief of NICHD's child development and behavior branch. "Success—or struggle—in kindergarten often foretells how well children will do in their later academic career. The researchers showed that it's possible to sustain the skills children acquire in preschool and to help them transition successfully to kindergarten."
Related Links
References: Helping Head Start Parents Promote Their Children's Kindergarten Adjustment: The Research-Based Developmentally Informed Parent Program. Bierman KL, Welsh JA, Heinrichs BS, Nix RL, Mathis ET. Child Dev. 2015 Nov;86(6):1877-91. doi: 10.1111/cdev.12448. Epub 2015 Oct 23. PMID: 26494108.
Funding: NIH's Eunice Kennedy Shriver National Institute of Child Health and Human Development (NICHD).