You are here
July 14, 2006
Extreme Obesity's Harsh Toll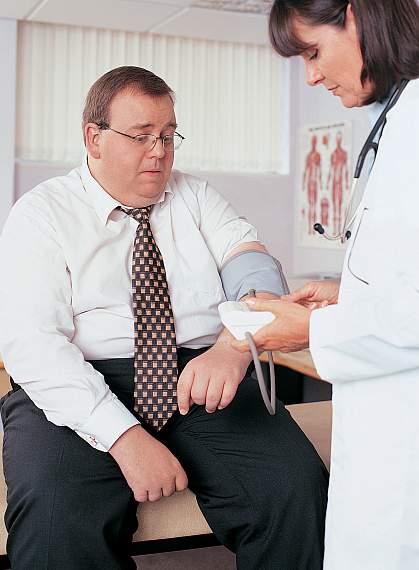 Many people think of obesity as a line to cross; if your body mass index (BMI — a ratio of weight to height) is 30 or more, you're at greater risk for a variety of health problems. A new study, however, shows that the heavier you are, the greater your health risks, beginning in the overweight category (BMI 25-29.9).
Doctors have actually defined three categories of obesity: obesity 1, with a BMI of 30-34.9; obesity 2 (35-39.9); and extreme obesity (40). Dr. Kathleen McTigue of the University of Pittsburgh and her colleagues, supported by a grant from NIH's National Institute of Diabetes and Digestive and Kidney Diseases, set out to look at the relationship between obesity and mortality and coronary heart disease. The researchers used results from the Women's Health Initiative Observational Study, which was funded by another NIH institute, the National Heart, Lung and Blood Institute, analyzing data from over 90,000 women between 50 and 79 years old over a seven-year period.
The team reports in the July 5 issue of the Journal of the American Medical Association that the risk for mortality was almost 25% higher for women in the obesity 1 category than for those in the normal range, about 50% higher for obesity 2, and almost 75% higher for those with extreme obesity. The risk of coronary heart disease was also strongly related to weight, with a higher risk beginning in the overweight range. In addition, severely obese women had higher rates of diabetes and hypertension than women in the lower weight classes.
The rates of extreme obesity differed with race and ethnicity, ranging from 1% among Asian and Pacific Islanders to 10% among black women. However, when weight was taken into account, the mortality and coronary heart disease rates didn't differ by race or ethnicity.
This study shows that simply grouping everyone with a BMI of 30 or more in one category doesn't accurately portray their risk. The farther above 30 someone's BMI, the greater their risk for coronary heart disease and mortality. With the number of extremely obese Americans quickly rising, this study highlights the importance of addressing obesity as quickly and aggressively as possible.
Related Links