You are here
February 3, 2014
Genome Study Yields Insights Into Bladder Cancer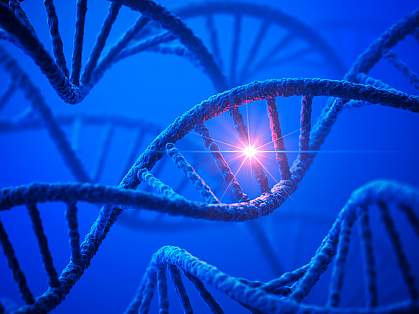 Researchers identified genes and pathways that are disrupted in a major form of bladder cancer. The study also revealed subtypes that resemble other cancers at a molecular level, implying similar routes of development. The findings suggest potential new therapeutic targets.
Bladder cancer—also known as urothelial carcinoma—is expected to cause more than 15,000 deaths in the United States in 2014. About 72,000 new cases will be diagnosed this year as well.
Bladder cancer that invades the muscle of the bladder is the deadliest form of the disease. Standard treatments for muscle-invasive bladder cancer include surgery and radiation combined with chemotherapy. There are no recognized follow-up treatments if the initial therapy doesn't work.
To gain a better understanding of this cancer, investigators in The Cancer Genome Atlas (TCGA) Research Network undertook a comprehensive genomic analysis of 131 muscle-invasive bladder carcinomas from patients who hadn't yet been treated. The researchers analyzed DNA, RNA, and protein data. TCGA is supported by NIH's National Cancer Institute (NCI) and National Human Genome Research Institute (NHGRI). The study appeared online on January 29, 2014, in Nature.
The scientists found recurrent mutations in 32 genes, including 9 that weren't previously reported to be significantly mutated in any cancer. They identified mutations in the TP53 gene in nearly half the tumor samples. TP53 codes for the p53 tumor suppressor protein, which helps regulate cell division. The RTK/RAS pathway, which is involved in regulating cell growth and development—and is affected in many cancers—was altered in 44% of the tumors analyzed.
Genes that regulate chromatin—the DNA/protein structure that determines how genes are expressed—were more frequently mutated in bladder cancer than in any other common cancer studied to date. These findings suggest the possibility of developing therapies that target chromatin remodeling.
The researchers identified potential drug targets in 69% of the tumors evaluated. Of note were frequent mutations in the ERBB2, or HER2, gene. HER2 has been implicated in a significant portion of breast cancers. New therapeutic agents under development against breast cancer thus might be effective in treating certain bladder cancers.
The scientists uncovered a potential viral connection to bladder cancer as well. DNA from viruses—notably, from HPV16, a form of the virus responsible for cervical cancer—was found in a small number of bladder tumors. This suggests that viral infection may contribute to the development of bladder cancer.
"This project has dramatically improved our understanding of the molecular basis of bladder cancers and their relationship to other cancer types," says lead author Dr. John Weinstein of the University of Texas M.D. Anderson Cancer Center. "In the long run, the potential molecular targets identified may help us to personalize therapy based on the characteristics of each patient's tumor."
Related Links
References: Comprehensive molecular characterization of urothelial bladdercarcinoma. The Cancer Genome Atlas Research Network. Nature. 2014 Jan 29. doi: 10.1038/nature12965. [Epub ahead of print]. PMID: 24476821.
Funding: NIH's National Cancer Institute (NCI) and National Human Genome Research Institute (NHGRI).