You are here
January 12, 2016
Infertility treatments don't appear to affect children's development
At a Glance
Children conceived using infertility treatments were no more likely to have a developmental delay by age 3 than those conceived without such treatments.
The findings may help allay concerns that infertility treatments could affect the embryo at a sensitive stage and lead to lifelong disability.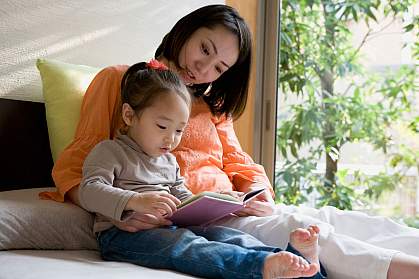 MIXA next/Thinkstock
A growing number of would-be parents are turning to infertility treatments to help them conceive. Such therapies can include medications that stimulate ovulation or direct placement of sperm into the uterus. More complex treatments are called assisted reproductive technologies (ART). ART approaches include in vitro fertilization (fertilization in a laboratory dish using eggs and sperm taken from the couple) and frozen embryo transfer (implantation of an embryo that had been previously frozen).
Some worry that ART may carry long-term health risks. To investigate, researchers from NIH, the New York State Department of Health, and University at Albany enrolled infants born to women in New York from 2008 to 2010. Parents of infants conceived using infertility treatment were invited to enroll, as were parents of twins and other multiples. The researchers also recruited infants conceived without infertility treatment for comparison. The study was funded by NIH's Eunice Kennedy Shriver National Institute of Child Health and Human Development (NICHD).
To screen children for developmental disabilities, parents were asked to complete a questionnaire periodically until their children were 3 years old. The questions covered 5 developmental areas, or domains: fine motor skills, gross motor skills, communication, personal and social functioning, and problem-solving ability. More than 5,800 children were included in the analysis. Over 1,800 were conceived using infertility treatment, and more than 2,000 were twins. The results were published online on January 4, 2016, in JAMA Pediatrics.
Overall, children conceived through ART were at increased risk for failing one of the domains, with the greatest likelihood of failing the personal-social or problem-solving domains. However, twins were more likely to fail a domain than children born singly (singletons), regardless of the conception approach. When the researchers compensated for the higher percentage of twins in the ART group compared to the group not treated for infertility (34% vs. 19%), they found no significant differences between the groups.
Similarly, the researchers found no differences in the percentage of singleton children in the 2 groups who were referred for evaluation by developmental specialists (21% vs. 20%). Among children diagnosed with a disability at 3 to 4 years old, there was also no significant association with ART.
"When we began our study, there was little research on the potential effects of conception via fertility treatments on U.S. children," says lead author Dr. Edwina Yeung of NICHD. "Our results provide reassurance to the thousands of couples who have relied on these treatments to establish their families."
The researchers will continue to evaluate the children until they reach 8 years of age to assess possible later-onset problems. Families considering infertility treatments should talk with a health care provider about reducing the likelihood of multiple births.
Related Links
References: Examining Infertility Treatment and Early Childhood Development in the Upstate KIDS Study. Yeung EH, Sundaram R, Bell EM, Druschel C, Kus C, Ghassabian A, Bello S, Xie Y, Buck Louis GM. JAMA Pediatr. 2016 Jan 4:1-9. doi: 10.1001/jamapediatrics.2015.4164. [Epub ahead of print]. PMID: 26746435.
Funding: NIH's Eunice Kennedy Shriver National Institute of Child Health and Human Development (NICHD).