You are here
November 9, 2009
Nicotine Patch-Lozenge Combo Helps More Smokers Quit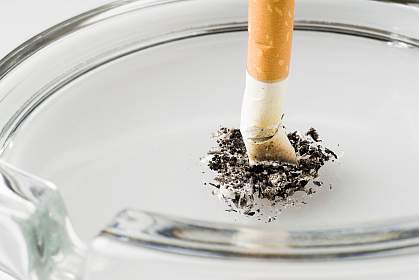 In the largest head-to-head comparison of medications that help smokers quit, a combination of the nicotine lozenge and patch provided the greatest benefit 6 months after quitting.
Smoking is the leading cause of preventable death nationwide. Several medications are available to help smokers kick the habit. Among these are prescription drugs like bupropion (Zyban) and over-the-counter nicotine replacement therapies, such as the nicotine patch and the nicotine lozenge, which help smokers gradually wean themselves off nicotine. However, few studies have compared the relative effectiveness of these therapies.
To help fill this gap, scientists at the University of Wisconsin-Madison led by Dr. Megan E. Piper studied more than 1,500 smokers. The smokers were randomly assigned to receive 1 of 5 medication options or a placebo. The study was supported by NIH's National Cancer Institute (NCI), National Institute on Drug Abuse (NIDA) and National Center for Research Resources (NCRR).
All the participants had smoked at least 10 cigarettes a day during the previous 6 months and were motivated to quit. Patients in the medication groups received 8 to 12 weeks of treatment with either the nicotine patch, the nicotine lozenge, bupropion, a combination of the patch plus the lozenge or a combination of the lozenge plus bupropion. In addition, all participants had 6 personal-counseling sessions to help them quit. Investigators looked at quit rates at several intervals, including the 1 week after the quit date, at the end of treatment and at 6 months.
In the November 2009 issue of the Archives of General Psychiatry, the scientists reported that about 40% of those in the patch-plus-lozenge group were still smoke-free 6 months after their quit dates. The success rates in the 4 other treatment groups were around 33% and about 22% in the placebo group.
In head-to-head comparisons using statistical corrections, only the nicotine patch plus lozenge proved to be significantly better than placebo at the 6-month point. The group taking the patch-lozenge combination also tended to have other positive outcomes, such as more time before relapse. Notably, they were most successful at achieving at least 1 smoke-free day in the first week after quitting, an important step toward long-term success.
The researchers did not look at other common smoking cessation aids, including nasal sprays, inhalers and nicotine gum. In addition, the medication varenicline (Chantix) was not included because it had not yet been FDA approved when the study began. The researchers say their study design could be used for future clinical trials to compare the effectiveness of these and other smoking cessation aids.
"This important study shows that people may derive greater benefit from a combination of treatments in their efforts to quit smoking," says NIDA Director Dr. Nora Volkow. "More research is needed to determine whether other therapy combinations can further improve cessation outcomes."
Related Links