You are here
November 9, 2009
Opportunities to Improve Student Fitness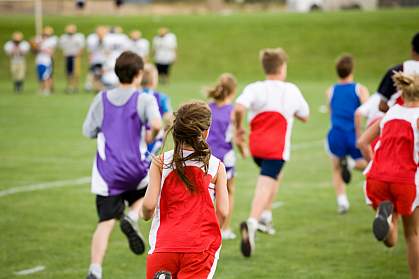 Researchers have tied several factors to better physical fitness among adolescents in low-income communities. The findings point to potential policy opportunities to help improve students' health.
Research has shown that the nationwide rise in obesity over the past decades reflects changes in our environment. A lack of access to produce markets, supermarkets and health food stores, for example, has been associated with higher rates of obesity in New York City. Studies have also found that people in neighborhoods without sidewalks, or who live far from a recreational facility or a walking or biking trail, are more likely to be obese.
Health professionals are particularly concerned about the number of youth living in disadvantaged areas, who are at high risk for physical inactivity and obesity, and thus cardiovascular disease and mortality. Since the environment is something that can be affected by public policy, Dr. Kristine A. Madsen at the University of California, San Francisco, and colleagues at the University of California, Berkeley, sought to gain insight into opportunities for boosting physical activity among adolescents in low-income communities.
The researchers looked at over 9,000 7th and 9th grade students in 19 public schools participating in the Healthy Eating Active Communities program—a multiyear initiative supported by the California Endowment and Kaiser Permanente to help low-income communities transform their nutrition and physical activity environments to promote healthy eating and active living. The students were asked in anonymous surveys about physical activity during their days, from the time they got up to the time they went to bed. The scientists compared this survey data with fitness test results (a mile run) and body mass index measurements collected by the California Department of Education. Their analysis was funded by NIH's Eunice Kennedy Shriver National Institute of Child Health and Human Development (NICHD) and the American Heart Association.
In the November 2009 issue of the Archives of Pediatrics & Adolescent Medicine, the researchers reported that almost half the students were overweight or obese, and over half didn't meet recommended physical fitness standards. Physical education classes (PE) had the strongest link to both fitness and weight status. Students who reported doing at least 20 minutes of exercise during PE were leaner and fitter. Those who reported enjoying PE were more fit as well. Being active on school grounds outside school was also linked with better fitness among the middle school students.
Although children who walked to and from school were more fit, they were actually slightly heavier than their classmates. "We didn't expect that, because we tend to think that people who are more active are leaner," Madsen says. But a closer look revealed that these students were more likely to stop while on their way to buy foods from fast food establishments, food carts or corner stores.
Madsen says these findings point to potential policy opportunities. "I think there are some simple things that might help," she says. "Look at the policies around academic performance at the local, state or national levels. PE's not there yet. There's no reason annual standards shouldn't include physical performance standards."
Related Links