You are here
June 27, 2023
Novel vaccines may help quell polio outbreaks
At a Glance
An international research team developed two oral polio vaccines that protect mice and avoid some concerns with the current vaccines.
If proven effective in ongoing clinical trials, the novel vaccines hold promise for eradicating polio from the planet.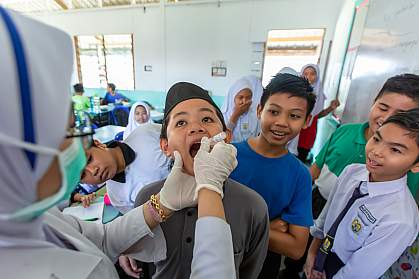 Yusnizam Yusof / Shutterstock
In the mid-1900s, the highly contagious disease poliomyelitis, or polio, was responsible for about a half-million cases of paralysis or death worldwide each year. Polio outbreaks began to drop dramatically beginning in the 1950s, after the development of two effective vaccines—one given orally, the other by injection. But despite worldwide efforts to eliminate polio, a few pockets of infection still remain, especially in developing countries.
The oral polio vaccine is often used in resource-poor regions, due to its lower cost and easy delivery. The oral vaccine is also more effective in many ways, but it has a significant drawback: It is based on a live weakened poliovirus that can mutate and evolve. In rare cases, it can become infectious. This can lead to a vaccine-derived outbreak in communities with many unvaccinated people. There are three types of poliovirus, with only type one still spreading in the wild. But outbreaks of all three types can still occur because of the vaccines.
An international research team has been seeking ways to improve the safety of the oral polio vaccine. The team is led by Drs. Raul Andino of the University of California, San Francisco, and Andrew Macadam of the U.K.'s National Institute for Biological Standards and Control. In 2020, they reported on modifications to the oral vaccine for type 2 poliovirus that made it genetically more stable. That means it was less likely to mutate, evolve, and become infectious. That same year, the World Health Organization approved the vaccine for emergency use.
Since then, more than 600 million doses of the vaccine have been used to treat polio outbreaks in 28 countries. In their latest study, the researchers created modified oral vaccines that target the other two polioviruses, types 1 and 3. Research to develop the vaccines was supported in part by NIH. Results appeared in Nature on June 14, 2023.
To create the new vaccines, the researchers used the molecular backbone of their earlier vaccine for the type 2 virus. They retained the genetic components that help keep the weakened virus from becoming pathogenic. But they replaced coding regions for the virus capsid (shell) that are unique to the type 2 virus with sequences from the other two polio types.
Studies in mice showed that both novel vaccines triggered strong immune responses similar to those seen with the current oral vaccines. Each effectively prevented infection after exposure to the poliovirus.
Further study showed that the new vaccines were genetically stable and so unlikely to evolve. The vaccines prevented infection even when packaged together to target two or all three types of poliovirus at once. The finding suggests that a combination vaccine could target all three strains and enable broad protection from poliovirus via an oral vaccine.
"We've designed these new vaccines using lessons learned from many years of fighting polio and believe they will help eliminate the disease once and for all," Andino says. "If there's polio anywhere, it will come back where there are gaps in vaccination. The perception that polio is gone is a dangerous one."
—by Vicki Contie
Related Links
References: Genetic stabilization of attenuated oral vaccines against poliovirus types 1 and 3. Yeh MT, Smith M, Carlyle S, Konopka-Anstadt JL, Burns CC, Konz J, Andino R, Macadam A. Nature. 2023 Jun 14. doi: 10.1038/s41586-023-06212-3. Online ahead of print. PMID: 37316671.
Funding: NIH's National Institute of Allergy and Infectious Diseases (NIAID) and Bill and Melinda Gates Foundation.