You are here
June 27, 2023
Lack of buprenorphine access for adolescents in residential facilities
At a Glance
Only 1 in 4 residential facilities that treat adolescents in the U.S. for opioid use disorder offer buprenorphine, the sole FDA-approved medication for 16- to 18-year-olds.
The findings reveal a lack of access to an effective treatment for opioid use disorder in adolescents.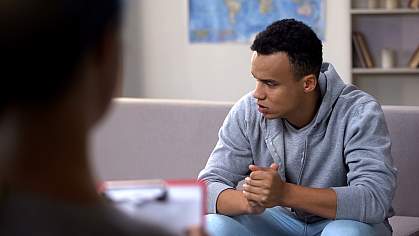 Motortion Films / Shutterstock
In recent years, a large number of adolescents have been diagnosed with opioid use disorder (OUD). Buprenorphine is the only medication for OUD that is FDA-approved for use in people ages 16-18. At least one medical professional society recommends that it be offered to all adolescents with OUD.
Residential treatment facilities form part of the spectrum of care for adolescents with OUD. But which treatments are available at these facilities hasn't been well studied. To fill this gap, an NIH-funded research team, led by Dr. Caroline King at Oregon Health & Science University, surveyed residential facilities about treatments used for adolescents younger than 18 years with OUD. Their results appeared in JAMA on June 13, 2023.
The team began by identifying 354 facilities across the U.S. that offered treatment for substance use in a residential service setting for people aged 17 and younger. They found most using the FindTreatment.gov database maintained by the Substance Abuse and Mental Health Services Administration (SAMHSA). Others were found using Google advertising data. The researchers called each facility to inquire about the treatments offered. In each case, a researcher posed as the relative of a 16-year-old with a recent non-fatal fentanyl overdose. They found that 160 of these facilities (45%) provided residential treatment to patients younger than 18 years old.
Of the facilities that treated adolescents, only 39, or less than 25%, offered buprenorphine to 16- to 18-year-old patients. In contrast, almost two-thirds of adult residential facilities offer buprenorphine. The likelihood of offering buprenorphine varied by region, from 40% in the Northeast to 18% in the West. The situations in which facilities offered buprenorphine also varied. Only 20 facilities (1 in 8) offered buprenorphine for ongoing treatment, and 12 offered it to patients younger than 16.
Other treatments varied across facilities as well. A little more than half reported including families in treatment. No other evidence-based treatment for young patients with OUD was used widely; none was used by more than a third of the facilities. More facilities (40) used equine therapy than buprenorphine, despite limited evidence of efficacy for treating addiction.
Based on these findings, the researchers estimated that on average, a person would need to call 9 potential facilities to find one that offered buprenorphine to 16- and 17-year-olds. For someone younger than 16, they would have to call 29 facilities.
The results suggest that many adolescents in residential treatment for OUD aren't getting the best available care. "These residential treatment centers see some of the most vulnerable adolescents in our communities," King says. "But they don't offer the standard of care for these kids. With rising fentanyl-related overdoses among adolescents, we really need these centers to provide the best care."
Related Links
References: Treatments Used Among Adolescent Residential Addiction Treatment Facilities in the US, 2022. King C, Beetham T, Smith N, Englander H, Hadland SE, Bagley SM, Korthuis PT. JAMA. 2023 Jun 13;329(22):1983-1985. doi: 10.1001/jama.2023.6266. PMID: 37314282.
Funding: NIH's National Institute on Drug Abuse (NIDA), National Center for Advancing Translational Sciences (NCATS) and Roadmap for Medical Research; Oregon Health & Science University; Agency for Healthcare Research and Quality.