You are here
February 6, 2018
Physical clot removal can help more people after stroke
At a Glance
Brain imaging was able to identify people who can benefit from a physical clot-removing procedure for up to 16 hours after a stroke.
This finding expands the treatment window well beyond the current six hour recommendation.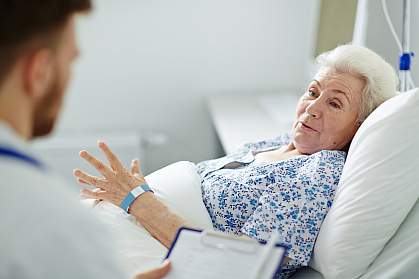 shironosov/iStock/Thinkstock
An ischemic stroke occurs when blood vessels that supply the brain become blocked. When blood can't deliver nutrients and oxygen, the brain tissue in the area begins to die. If the stroke is diagnosed quickly enough, doctors can use clot-busting drugs and other methods to restore blood flow. The area surrounding the dying region, known as the penumbra, can be saved if blood flow is quickly restored. Otherwise, dying brain tissue can expand for hours after the stroke.
Doctors can use a method called perfusion imaging to assess the diminished blood flow and size of the penumbra. In previous studies, perfusion imaging identified patients most likely to benefit from drugs and procedures that restore blood flow.
The physical removal of a blockage, called a thrombectomy, was recently approved for use up to six hours after a stroke. A multi-site clinical trial led by Dr. Gregory Albers at Stanford University set out to test whether physically removing blood clots up to 16 hours after stroke could be done safely and effectively in candidate patients. The study, which was conducted through the nationwide NIH StrokeNet research network, was supported by NIH's National Institute of Neurological Disorders and Stroke (NINDS). Results were published on January 24, 2018, in the New England Journal of Medicine.
Using software that analyzes perfusion images, the researchers identified patients that were thought to have salvageable brain tissue up to 16 hours after stroke. They randomized 92 participants, aged 59 to 80, to receive thrombectomy plus standard medical therapy and 90 to receive medical therapy alone (control). The patients were assessed at the beginning, on the day after randomization, upon release from the hospital, and at 30 and 90 days.
Three months after treatment, fewer patients receiving the clot removal procedure had died (14%) compared to controls (26%). Also, 45% of patients receiving the thrombectomy achieved functional independence compared to 17% of controls. There were no substantial differences in serious side effects between the groups. NIH ended the study early because of overwhelming evidence of benefit from the clot-removing procedure.
"These striking results will have an immediate impact and save people from life-long disability or death," says NINDS Director Dr. Walter Koroshetz. "I really cannot overstate the size of this effect."
"Although stroke is a medical emergency that should be treated as soon as possible," Albers explains, "[this finding] opens the door to treatment even for some patients who wake up with a stroke or arrive at the hospital many hours after their initial symptoms."
The results were first announced at the International Stroke Conference in January. Based in part on these findings, the American Heart Association and American Stroke Association immediately issued new guidelines for treating ischemic stroke patients.
Related Links
References: Thrombectomy for Stroke at 6 to 16 Hours with Selection by Perfusion Imaging. Albers GW, Marks MP, Kemp S, Christensen S, Tsai JP, Ortega-Gutierrez S, McTaggart RA, Torbey MT, Kim-Tenser M, Leslie-Mazwi T, Sarraj A, Kasner SE, Ansari SA, Yeatts SD, Hamilton S, Mlynash M, Heit JJ, Zaharchuk G, Kim S, Carrozzella J, Palesch YY, Demchuk AM, Bammer R, Lavori PW, Broderick JP, Lansberg MG; DEFUSE 3 Investigators. N Engl J Med. 2018 Jan 24. doi: 10.1056/NEJMoa1713973. [Epub ahead of print]. PMID: 29364767.
Funding: NIH's National Institute of Neurological Disorders and Stroke (NINDS).