You are here
November 18, 2013
Medical Management Best to Prevent Second Stroke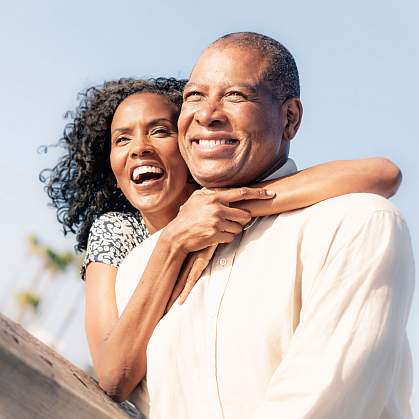 Final results of a clinical trial in patients at high risk for a second stroke confirm earlier findings that stenting adds no benefits over aggressive medical treatment alone. Further study will be needed to identify specific situations in which stenting might help.
Stroke is the fourth leading cause of death in the United States. A stroke is any sudden event affecting the brain's blood supply. The most common type, accounting for almost 80% of all strokes, is ischemic stroke. This occurs when the blood supply to the brain is cut off or severely reduced because of a blocked artery. Intracranial stenosis — a blockage or narrowing of the brain's blood vessels, often due to cholesterol buildup — raises the risk for this type of stroke.
After a stroke, people with severe stenosis of these arteries are at great risk for a second stroke. Treatment typically involves a medical program that includes blood-thinning medications and control of blood pressure and cholesterol. In hopes of improving the odds, doctors over the past decade began to also use an intracranial artery stent. The stent is a tiny tube that's surgically placed within a major artery in the brain to reverse the stenosis and improve blood flow.
To assess whether stenting added benefits beyond aggressive medical treatment alone, researchers enrolled more than 450 patients who had a recent stroke related to extensive stenosis. The participants were at high risk for stroke because of a significant blockage or narrowing of brain arteries. They received aggressive medical treatment and a lifestyle modification program that focused on quitting smoking, exercising, and controlling diabetes and cholesterol. Half also received a specific type of intracranial stent. The trial was supported largely by NIH's National Institute of Neurological Disorders and Stroke (NINDS).
Based on initial results, new enrollment in the trial was stopped early. As reported in 2011, about 15% of patients in the stenting group experienced a stroke or died within the first 30 days after enrollment, compared with about 6% of those who received medical therapy alone. The patients were then followed for 2 more years. Final results appeared online on October 26, 2013, in the Lancet.
The early benefit of aggressive medical management over stenting persisted in the patients over a median of 32 months of follow-up. About 15% (34 of 227) in the medical group had a stroke or died, compared to 23% (52 of 224) in the stenting group. Notably, 70% of the patients in the medical treatment group achieved normal blood pressure levels (from 34% at the start of the study), and 62% achieved normal lipid levels (from 24%).
"Surgical interventions often have increased risk of complications early on, so we continued to follow the patients to see if the long-term effects of surgery were beneficial," says lead author Dr. Colin Derdeyn of Washington University School of Medicine in St. Louis. "That did not turn out to be the case."
The U.S. Food and Drug Administration has limited the approved use of this type of stent to patients with 70–99% stenosis who have had 2 or more strokes despite aggressive medical management, and whose last stroke occurred more than 7 days prior. Further trials will be needed to assess whether other approaches would benefit these high-risk patients without adding additional risks.
— by Harrison Wein, Ph.D.
Related Links
References: Aggressive medical treatment with or without stenting in high-risk patients with intracranial artery stenosis (SAMMPRIS): the final results of a randomised trial. Lancet. 2013 Oct 25. doi:pii: S0140-6736(13)62038-3. 10.1016/S0140-6736(13)62038-3. [Epub ahead of print]. PMID: 24168957.
Funding: NIH's National Institute of Neurological Disorders and Stroke (NINDS) and National Center for Research Resources (NCRR); and Stryker Neurovascular and AstraZeneca.