You are here
July 25, 2011
Placebo Improves Asthma Symptoms, But Not Lung Function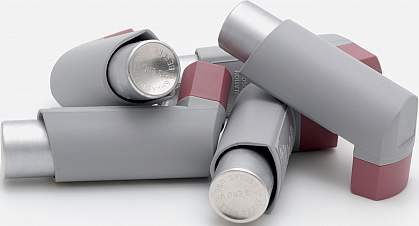 Placebo treatment may make asthma patients feel better but not actually lessen disease, according to a new study. The finding helps clarify the benefits and limitations of the placebo effect. It may also influence how doctors measure successful treatment.
The placebo effect is a well-known phenomenon in which patients' conditions improve when they're given a simulated treatment. It's often unclear whether a placebo's benefits are caused by an actual lessening of the patient's disease that can be objectively measured, or whether they're primarily subjective.
Drs. Michael Wechsler and Ted Kaptchuk led a research team from the Harvard Medical School, Endicott College and the University of Hull seeking to dissect the components of placebo-induced symptom relief. In a pilot study, the team asked whether asthma patients would experience a placebo effect, and if so, whether that effect could be measured objectively. Their work was funded by NIH's National Center for Complementary and Alternative Medicine (NCCAM).
The team assembled a group of 46 chronic asthma sufferers. On each visit, the patients received 1 of 4 different interventions: an inhaler with albuterol (the standard treatment for relieving sudden asthma symptoms), a placebo inhaler, sham acupuncture or no treatment. The patients received each of these 4 interventions in random order on different visits. The cycle was then repeated 2 more times for a total of 12 visits.
The researchers assessed how well the treatments worked both objectively and subjectively. The objective test measured how much air the patients could expel from their lungs in 1 second. The subjective test asked the patients to rate their symptom improvement on a scale of 0 to 10. Results from the 39 patients who completed the study appeared in the July 14, 2011, issue of the New England Journal of Medicine.
As expected, patients reported symptom relief with the albuterol treatment. However, they also felt similar improvement when using the placebo inhaler or the sham acupuncture. When the team looked at the maximum air volume that patients could exhale, they found improvement in lung function only when the patients received albuterol. There was no improvement in objective measurements with the other treatments.
While the authors stress that their results will need to be replicated, they note that these results suggest the ritual of treatment itself can reduce patients' perceived symptoms, even when their illness actually remains the same. Therefore, if doctors want to truly measure improvement in patients' asthma, it is important for them to use an objective measurement.
"It's clear that for the patient, the ritual of treatment can be very powerful," Kaptchuk says. "This study suggests that in addition to active therapies for fixing diseases, the idea of receiving care is a critical component of what patients value in health care. In a climate of patient dissatisfaction, this may be an important lesson."
— by Allison Bierly, Ph.D.
Related Links