You are here
July 25, 2011
Updates to Family History May Improve Cancer Screening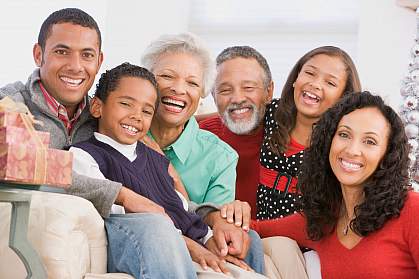 Family histories of cancer can change significantly between ages 30 and 50 and may warrant earlier or more intense cancer screening. The new findings suggest that doctors should regularly update the family health histories of middle-aged patients.
Your family's medical history is one of the best tools for predicting your risk for cancer and other disorders. By some estimates, more than 1 in 5 people are at increased risk for cancer based on family history. When family history suggests an elevated risk for colorectal, breast or prostate cancer, patients are often advised to undergo earlier screening. More sensitive tests may also be recommended than for average-risk people.
Although family health history tends to change over time, there are currently no guidelines for how often clinicians should update their patients' information. A team of scientists from 14 universities and medical centers across the country took a closer look at the issue. They combed through family medical data collected over a decade from more than 11,000 people with a personal or family history of cancer. The data came from the Cancer Genetics Network, a national, population-based cancer registry supported by NIH's National Cancer Institute (NCI).
The researchers looked for changes in colorectal, breast or prostate cancer history among participants' closest relatives. They analyzed data from each patient's birth to enrollment in the registry. They also evaluated data on over 1,500 of the participants from enrollment to their last follow-up an average of 8 years later. The results appeared in the July 12, 2011, Journal of the American Medical Association.
The researchers found that adults 30 to 50 years old are most likely to have family history changes significant enough to affect recommendations for cancer screening. During that span, the percentage of patients recommended for high-risk screening of colorectal cancer increased from about 2% to 7%. The percentage of women recommended for MRI screening — a more sensitive test for breast cancer than standard mammography — increased from about 7% to 11%. The results for prostate cancer were less clear, possibly because limited data were available.
These findings led the researchers to recommend that physicians get a comprehensive family history from their patients by age 30 and then update it at least every 5 to 10 years.
"We hope this new information will help educate physicians to more frequently ask patients these important questions," says lead researcher Dr. Sharon Plon of Baylor College of Medicine. "Our results are relevant for all patients, since anyone may have a change that would affect their cancer screening recommendations."
Related Links