You are here
September 21, 2009
Prevention System Reduces Risky Behavior in 10-14 Year Olds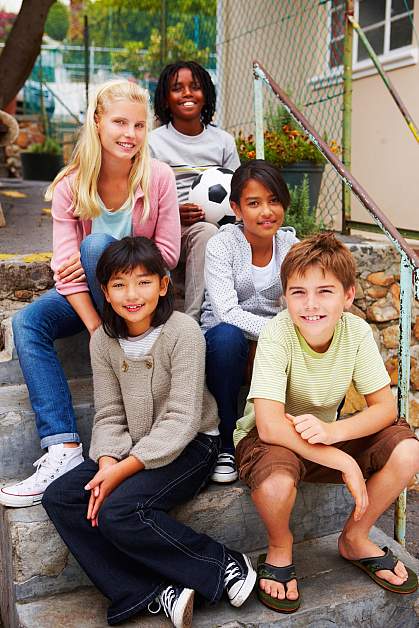 A community-focused prevention system helps keep middle schoolers from starting to engage in risky behaviors like alcohol and tobacco use, according to a new study.
Prevention research has led to the creation of programs that reduce the risk of substance abuse among youth. Studies find that each dollar invested in research-based prevention programs can bring a savings of up to $10 in treatment for alcohol or other substance abuse. However, getting these programs into communities has been a challenge.
Communities That Care (CTC) is an evidence-based substance-use prevention system. It helps community leaders identify the risk factors for future substance use among their youth and choose evidence-based programs to address those risk factors. To evaluate CTC, a team of researchers at the University of Washington led by Dr. J. David Hawkins studied a group of 4,407 fifth graders from 24 communities in 7 states. The 4-year trial, which began in 2003, was supported primarily by NIH's National Institute on Drug Abuse (NIDA). Other NIH institutes provided additional funding.
Half the communities were randomly assigned to participate in CTC, with the other half serving as controls. In CTC communities, a coalition of community "stakeholders" was trained to identify factors that affect substance use in their areas. Stakeholders included educators, business and public leaders, health workers, religious leaders, social workers and other community volunteers. The coalitions then chose from 2 to 5 tested and effective prevention programs tailored to their risk factors. The programs focused on a variety of topics, including alcohol and drugs, violence prevention, reducing family conflict, life skills training, HIV/AIDS prevention, dating safety, tobacco use and anger management. The youth were surveyed annually for 4 years about their risky behaviors.
The results appeared in the September 2009 issue of Archives of Pediatrics and Adolescent Medicine. By the eighth grade, students in CTC communities were 32% less likely to begin using alcohol, 33% less likely to begin smoking and 33% less likely to begin using smokeless tobacco than those in control communities. They were also 25% less likely to initiate delinquent behavior, a marker for future substance use and an important target for prevention.
"This shows that a coalition of community stakeholders armed with tools solidly grounded in prevention science can prevent middle schoolers from starting to use tobacco, starting to drink and starting to engage in delinquent behavior," Hawkins says. "That's what's really remarkable—that the effects are community-wide."
"What makes Communities That Care unique is that it enables communities to identify their own special issues so they can hand pick the right prevention programs," says NIDA Director Dr. Nora Volkow.
The researchers plan to continue tracking the children through the year following high school to see if the effects of CTC last and whether communities continue to use their chosen prevention programs.
Related Links