You are here
September 21, 2009
Mending Vision in Patients with Eye Vein Clots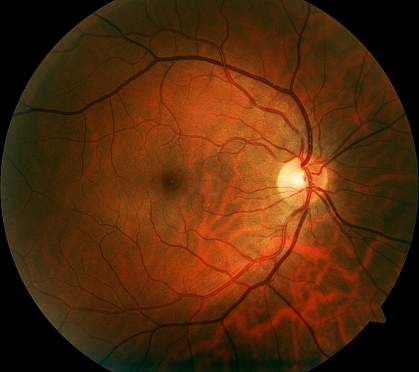 Injecting the eye with corticosteroids can improve vision in patients who have blood clots clogging a vein in the eye, according to 2 new reports. But for a subset of patients with blockages in small branches of the vein, laser treatment may be a better option.
Retinal vein occlusion, a condition marked by reduced blood flow to the retina, is a significant cause of vision loss worldwide. It's seen most often in the elderly and in people with diabetes or high blood pressure. If the blockage is in a large vein, it's known as central retinal vein occlusion (CRVO). If it's in small branches of a vein, it's called branch retinal vein occlusion (BRVO). In some cases, the blockage can lead to fluid buildup in the center of the retina, or macular edema, a common cause of blindness.
Ophthalmologists typically use laser therapy for patients who have vision loss caused by macular edema associated with BRVO. But for vision loss associated with CRVO, there's been no proven effective treatment. Some doctors have reported success using eye injections of a corticosteroid medication called triamcinolone in patients with either type of vein blockage. But the safety and effectiveness of corticosteroids for these conditions had not yet been tested in a clinical trial.
To take a closer look, NIH's National Eye Institute (NEI) sponsored a multi-center clinical trial known as the Standard Care vs. Corticosteroid for Retinal Vein Occlusion (SCORE) study. The study includes 2 separate clinical trials comparing treatments for vision loss associated with macular edema from either CRVO or BRVO. One-year results from both trials were reported in 2 papers published in the September 2009 issue of Archives of Ophthalmology.
Within each trial, participants were randomly divided into 3 groups. One group received "standard" care for the condition—laser therapy for BRVO and observation for CRVO. The other 2 groups received eye injections of either 1- or 4-milligram doses of triamcinolone. The participants' average age was about 68.
The CRVO trial included 271 patients. After 1 year, 27% of those in the 1-mg triamcinolone group and 26% of those in the 4-mg group were able to read at least 3 additional lines on a vision chart since the start of the study—equivalent to identifying letters that were half as small as they could read before treatment. Only 7% of those in the standard care group—who were examined regularly but generally didn't receive treatment—had similar visual improvements. Because patients in the 1-mg group had fewer side effects related to increased eye pressure and cataract formation, this dosage may be better than the 4-mg option for treating vision loss associated with CRVO.
"These are very welcome results because up to now there has been no effective way to treat patients who have a central retinal vein occlusion," says Dr. Frederick L. Ferris III, NEI's clinical director. "Now, clinicians could offer CRVO patients a low-dose corticosteroid injection that may increase their chance of visual improvement."
In the BRVO trial, which included 411 people, 20-30% of patients in each group had visual gains of 3 or more lines on a vision chart. However, those who received triamcinolone were more likely to develop a cataract or have increased eye pressure requiring medication than patients who received laser treatment. Between 1 and 2 years after treatment began, patients who received the 4-mg dose of triamcinolone were also more likely to undergo cataract surgery.
"The lower rate of complications with laser treatment may indicate that it is the best proven treatment option for patients [with BRVO] at this time," says Dr. Ingrid U. Scott of Penn State College of Medicine and co-chair of the SCORE study.
Related Links