You are here
January 29, 2019
Printed scaffolds promote spinal cord repair in rats
At a Glance
Researchers used 3D printing technology to create a scaffold that protects implanted stem cells in the spinal cord.
When tested in rats, the scaffold helped promote the growth of new nerve cells and restore some limb movement after spinal cord injury.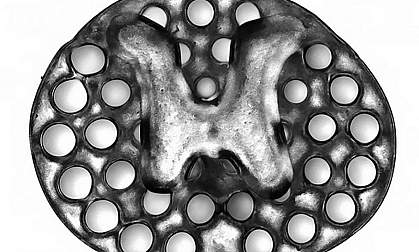 Jacob Koffler and Wei Zhu, UC San Diego
More than 250,000 people in the United States have experienced a spinal cord injury. In many cases, such an injury can lead to permanent paralysis of one or more limbs. Researchers have been working on ways to regrow nerve cells and restore function in the spine after injury.
Scientists have tried harnessing a type of cell called a neural progenitor cell (NPC). NPCs have the potential to become different types of cells in the nervous system. However, it has proven hard to keep NPCs alive within an injured spine long enough for them to promote substantial repair.
To address this difficulty, researchers led by Drs. Shaochen Chen and Mark Tuszynski from the University of California, San Diego, turned to 3D printing. They designed and printed protective scaffolds for implantation in the spinal cord. The scaffolds contain substances that reduce inflammation and protect growing nerve cells (neurons). They also have tiny channels that encourage new nerve cells to grow along the spine, toward existing neurons on either side of an injury.
The researchers tested whether the scaffolds could promote substantial nerve cell growth and restore physical functioning in rats with a complete tear in their spinal cords. The study was funded by NIH's National Institute of Biomedical Imaging and Bioengineering (NIBIB) and Eunice Kennedy Shriver National Institute of Child Health and Human Development (NICHD). Results appeared online on January 14, 2019, in Nature Medicine.
One month after implantation, rats that received the scaffolds plus NPCs showed reduced inflammation at the site of injury. The researchers also saw a large number of new nerve cells growing in the correct directions through the scaffolds. In contrast, these improvements weren't seen in rats that received NPCs without the scaffold.
After six months, rats that received the scaffold and NPCs showed the growth of new neurons that extended out into the rest of the spinal cord. The researchers confirmed that these new neurons and the rest of the nervous system could communicate with each other.
Rats that received the scaffold with the NPCs regained some movement in their back leg joints by six months after injury. In contrast, rats that received only NPCs or only empty scaffolds did not show similar functional recovery.
The scaffolds were custom printed to match the size and shape of each rat's spinal injury. In a related proof-of-concept experiment, the researchers also successfully printed scaffolds that matched several complex human spinal cord injuries. These included a partial tear and a knife wound.
"This marks another key step toward conducting clinical trials to repair spinal cord injury in people," says coauthor Dr. Jacob Koffler. "The scaffolding provides a stable, physical structure that supports consistent engraftment and survival of neural stem cells."
—by Sharon Reynolds
Related Links
References: Biomimetic 3D-printed scaffolds for spinal cord injury repair. Koffler J, Zhu W, Qu X, Platoshyn O, Dulin JN, Brock J, Graham L, Lu P, Sakamoto J, Marsala M, Chen S, Tuszynski MH. Nat Med. 2019 Jan 14. doi: 10.1038/s41591-018-0296-z. [Epub ahead of print]. PMID: 30643285.
Funding: NIH's National Institute of Biomedical Imaging and Bioengineering (NIBIB) and Eunice Kennedy Shriver National Institute of Child Health and Human Development (NICHD); National Science Foundation; California Institute for Regenerative Medicine; and Dr. Miriam and Sheldon G. Adelson Medical Research Foundation.