You are here
May 15, 2018
Spinal cord stimulation improves hand grip after cervical spinal injury
At a Glance
A noninvasive treatment helped six people with cervical spinal cord injuries improve their hand strength and dexterity.
This approach may help expand treatment options for people with cervical spinal cord injuries.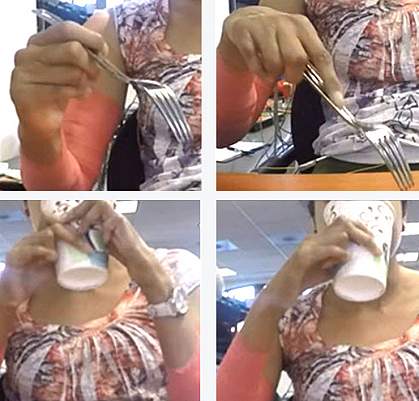 The brain uses the spinal cord to control the body's movements. If any part of the spinal cord gets damaged, it can lead to serious disabilities, including paralysis. More than a quarter of a million Americans are now living with spinal cord injuries.
A previous study showed that a noninvasive spinal stimulation technique called transcutaneous stimulation helped five men with complete muscle paralysis in the lower body voluntarily move their legs again. The method delivers electrical current to the spinal cord via electrodes strategically placed on the skin. In the study, electrodes were placed over the lower thoracic spine.
Damage to the higher cervical spinal region can affect the function of the upper limbs as well as lower limbs. To investigate whether a similar technique could be used to stimulate upper limb function, a team led by Dr. Reggie Edgerton at the University of California, Los Angeles, tested the device in five males and one female who had a cervical spinal cord injury for over one year. The research was supported in part by NIH's National Institute of Biomedical Imaging and Bioengineering (NIBIB). Results were published in the Journal of Neurotrauma on April 13, 2018.
Twice a week for four weeks, participants were given transcutaneous stimulation along with upper limb training sessions. During the sessions, the participants squeezed a gripping device 18 times using each hand with and without stimulation. The researchers measured the amount of force the participants used while holding the grip.
The participants' grip strength started improving after only two or three training sessions. After eight sessions, their hand grip forces increased by about 325% with stimulation and about 225% without simultaneous stimulation.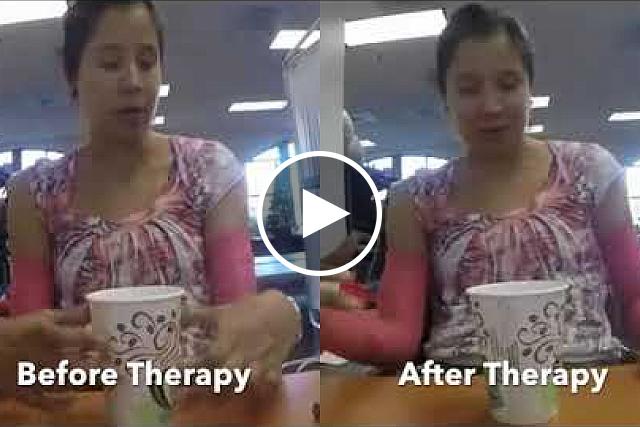 Some participants also reported improvements in their ability to perform daily activities, such as holding a cup with one hand, using a cell phone, rotating a door knob, twisting off a bottle cap, or turning a key. And some reported improved lower limb function as well.
"After just eight sessions, they could do things they haven't been able to do for years," Edgerton says.
The researchers are seeking FDA approval for the stimulation device in the hopes it may one day be used in the clinic. However, more study is needed to assess the intervention's long-term benefits, underlying mechanisms, and to compare it with standard treatment or a placebo. Which types of spinal cord injuries would be appropriate for the intervention needs to be investigated as well. 
—by Tianna Hicklin, Ph.D.
Related Links
References: Noninvasive activation of cervical spinal networks after severe paralysis. Gad P, Lee S, Terrafranca N, Zhong H, Turner A, Gerasimenko Y, Edgerton VR. J Neurotrauma. 2018 Apr 13. doi: 10.1089/neu.2017.5461. [Epub ahead of print]. PMID: 29649928.
Funding: NIH's National Institute of Biomedical Imaging and Bioengineering (NIBIB); Christopher and Dana Reeve Foundation; Dana and Albert R. Broccoli Foundation; Walkabout Foundation; and Russian Foundation for Fundamental Research.