You are here
November 19, 2007
Protein Key to Severity of Staph Infections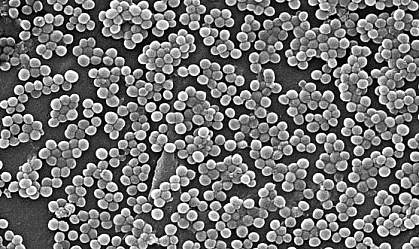 e Carr and Jeff Hageman, Centers for Disease Control and Prevention
Scientists have discovered why some strains of the Staphylococcus aureus bacterium ("Staph") can be so dangerous. They hope to use the finding to advance development of new therapeutic treatments.
Staph is a growing public health concern because some strains, including community-associated methicillin resistant S. aureus (CA-MRSA), have developed resistance to existing antibiotics. Scientists at NIH's National Institute of Allergy and Infectious Diseases (NIAID) have been working to understand why CA-MRSA strains cause widespread and often severe infections in otherwise healthy people.
Up until a year ago, many scientists believed they had narrowed their search for the cause of severe CA-MRSA infections, focusing on the Panton-Valentine leukocidin (PVL) toxin produced by certain strains. But last year, Dr. Michael Otto and his colleagues at NIAID's Rocky Mountain Laboratories published a study showing that PVL doesn't play a major role in CA-MRSA infections. His research team has now revealed what they believe to be a key culprit: members of the phenol-soluble modulin (PSM) protein family. They published their results in the online edition of Nature Medicine on November 11, 2007.
The researchers identified previously unknown PSMs secreted by S. aureus. They then compared PSM production between CA-MRSA and the most prominent hospital-associated MRSA strains. They found PSM genes in all the MRSA strains, but production of the proteins was higher in CA-MRSA strains known for severe virulence.
The scientists next developed test strains using the most widespread isolates of CA-MRSA and observed how laboratory mice responded to them. These experiments revealed that the psm-alpha gene cluster, which contains the genes for PSM-alpha proteins, plays an essential role in CA-MRSA virulence and, ultimately, disease severity.
When the researchers examined how the proteins affect human immune defenses, they found that PSM-alpha proteins were very effective at destroying immune cells.
Dr. Otto says that a specific sensing mechanism likely enables the bacteria to secrete PSMs at the ideal time when the immune cells sent to fight them are most vulnerable. Likewise, PSM production slows when bacterial survival is most jeopardized.
"We're not saying the psm-alpha gene cluster is the only element contributing to the virulence and survival of CA-MRSA, but it is a major factor," Dr. Otto says.
The researchers are now exploring how the genes for PSM-alpha are triggered. They are also continuing to study the molecular details of how PSMs function. Ultimately, they hope to use this knowledge to identify new candidate therapeutics for CA-MRSA.
Related Links