You are here
November 19, 2007
Scientists Find New Genetic Alterations in Lung Cancer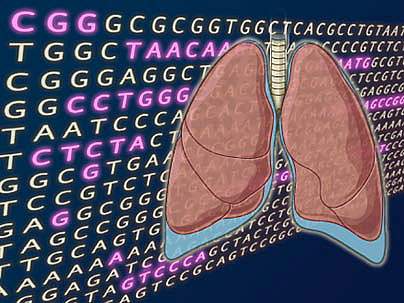 road Institute Communications
Researchers have detected dozens of genetic regions that are altered in lung cancer, the leading cause of cancer deaths worldwide. The findings provide new clues to the biology of lung cancer and will help shape future strategies for diagnosing and treating the disease.
Each year lung cancer kills more than 1 million people, including more than 150,000 in the United States. As with most cancers, lung cancer often arises from genetic changes that build up in cells throughout a person's lifetime. Despite years of research, scientists don't fully understand how these genetic changes trigger the uncontrolled growth of tumor cells.
To examine this complex problem, multidisciplinary teams of scientists are beginning to use genomic tools in a systematic, comprehensive approach to cancer research. The latest findings are the first results from one of these team efforts, known as the Tumor Sequencing Project. The scientific team was funded in part by NIH's National Human Genome Research Institute (NHGRI) and National Cancer Institute (NCI), and includes NHGRI's 3 large-scale sequencing centers at Baylor College of Medicine, Broad Institute of MIT and Harvard, and Washington University School of Medicine.
The scientists systematically analyzed the DNA of more than 370 tumor samples collected from patients with lung adenocarcinoma-the most common type of lung cancer nationwide, accounting for about one-third of cases.
As reported in the November 4, 2007, advance online edition of Nature, the researchers uncovered 57 genetic changes that occurred frequently in the lung cancer patients. Only about a third of these changes were already known to play critical roles in lung adenocarcinoma; the rest likely contain as-yet-undiscovered lung cancer-related genes.
The study also implicated a gene never before linked to any type of cancer. The gene, NKX2.1, normally acts as a master regulator, controlling gene activity in the lungs' tiny air sacs, called alveoli. The researchers believe that NKX2.1 might also be a critical gene in the growth of lung adenocarcinomas.
The Tumor Sequencing Project will continue to examine these same lung cancer samples at a greater level of genetic detail. The researchers also plan to analyze small genetic changes in several hundred human genes already known to play roles in cancer or cell growth in general.
"The impacts of these findings extend far beyond lung cancer and indicate that many important cancer-related genes still await our discovery," says NHGRI Director Dr. Francis S. Collins. "Now, we must forge ahead and apply this strategy as quickly as possible to other common types of cancer."
Related Links