You are here
March 12, 2019
Reduced-calorie diet lowers signs of inflammatory bowel disease
At a Glance
Feeding mice a certain low-calorie diet in cycles improved signs of inflammatory bowel disease. Feeding people a similar diet seemed to reduce overall inflammation.
The findings pave the way for studies with people who have inflammatory bowel disease.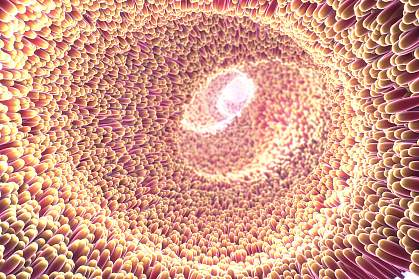 man_at_mouse / iStock / Thinkstock
Inflammatory bowel disease (IBD) involves long-lasting inflammation in part of the digestive tract. The two most common types are Crohn's disease and ulcerative colitis. IBD can cause damage to the lining of the bowel. It can lead to diarrhea, blood in the stool, weight loss, and belly pain. For some, the disease can be severe and even life threatening.
The cause of IBD is not known, but the immune system, diet, and certain gut microbes are thought to contribute to the persistent inflammation. Previous studies have shown that changing diet can help people with IBD.
To find out whether intermittent calorie restriction might help fight inflammation, a team led by Dr. Valter D. Longo of the University of Southern California tested cycles of a low-calorie, low-protein, plant-based diet on mice with inflamed bowels. The research, which was reported in Cell Reports on March 5, 2019, was supported in part by NIH's National Institute on Aging (NIA).  
The team tested three groups of mice with inflamed bowels. One was fed a regular diet. One was given only water for 2 days per 14-day diet cycle. The third was given a fasting-mimicking diet for 4 days per diet cycle. The first day of this fasting-mimicking diet provided about 50% of the calories of a regular diet. It had vitamins, minerals, olive oil, essential fatty acids, and vegetable powders. On days two to four, the diet provided only about 10% of the regular diet's calories. The two groups of fasting mice received a regular diet on the other days.
In the mice given cycles of the fasting-mimicking diet, gut inflammation and other signs of IBD improved. The researchers also observed that the average colon length returned to normal, suggesting tissue regeneration. In the mice given only water during fasting cycles, the researchers also noted a reduction in certain signs of inflammation.
The team also detected enhanced growth of beneficial bacteria in the guts of mice on the fasting-mimicking diet. To test whether these bacteria could be linked to improvement in bowel inflammation, the researchers performed fecal transplants into mice with inflamed bowels. Those receiving a transplant from the fasting-mimicking diet mice had reduced signs of inflammation compared to those receiving the transplant from mice on a regular diet.
The researchers also tested three cycles of a fasting-mimicking diet in 100 healthy people. For each cycle, the people ate a fasting-mimicking diet for 5 days and then returned to their regular diet for about 25 days. People who started the study with a higher level of a certain inflammation marker had lower white blood cells after the fasting-mimicking diet. This finding suggests that the diet may curb overall inflammation in people.
"Fasting is hard to stick to, and it can be dangerous," Longo says. "We knew that the fasting-mimicking diet was safer and easier than water-only fasting, but the big surprise from this study is that if you replace the fasting-mimicking diet, which includes pre-biotic ingredients, with water, we don't see the same benefits."
The researchers are planning a clinical trial to test the safety and efficacy of these fasting-mimicking diet cycles in people with IBD.
—by Geri Piazza
Related Links
References: Fasting-Mimicking Diet Modulates Microbiota and Promotes Intestinal Regeneration to Reduce Inflammatory Bowel Disease Pathology. Rangan P, Choi I, Wei M, Navarrete G, Guen E, Brandhorst S, Enyati N, Pasia G, Maesincee D, Ocon V, Abdulridha M, Longo VD. Cell Rep. 2019 Mar 5;26(10):2704-2719.e6. doi: 10.1016/j.celrep.2019.02.019. PMID: 30840892.
Funding: NIH's National Institute on Aging and the Glenn Foundation for Medical Research.