You are here
February 10, 2014
Reducing Antibiotic Prescriptions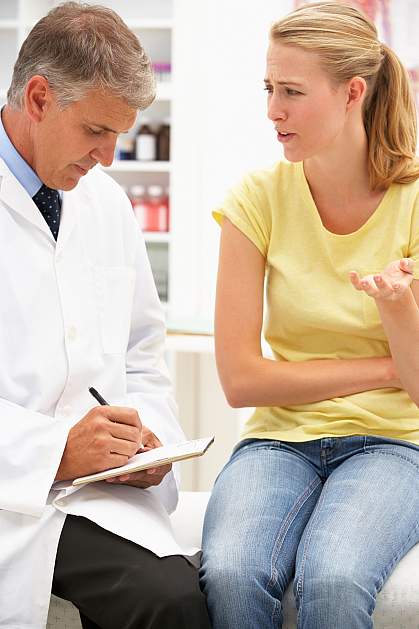 A unique type of poster placed in exam rooms helped reduce unnecessary antibiotic prescriptions for respiratory infections during flu season. The approach could help reduce costs and extend the usefulness of these drugs.
Antibiotics are among the most commonly prescribed drugs. Ironically, their overuse and misuse helps to create drug-resistant bacteria. Decades of widespread antibiotic use have encouraged the spread of bacteria with resistance to multiple antibiotics.
Despite established guidelines for treating acute respiratory infections, an estimated half of the prescriptions for their treatment are inappropriate. Such decisions may be driven by patients, defensive prescribing, or other factors. Health care systems have tried incentive payments and feedback systems to reduce unneeded prescriptions. These programs can be expensive and have had limited success.
Studies have found that people who make public commitments to certain behaviors are more likely to follow through. A team led by Dr. Jason Doctor of the University of Southern California tested whether public commitments could nudge clinicians to improve their prescription practices. The study, which was supported by NIH's National Institute on Aging (NIA), appeared online in JAMA Internal Medicine on January 27, 2014.
"We developed a simple, low-cost poster, 18 × 24 inches, that featured a commitment letter along with clinician photographs and signatures," explains lead author Dr. Daniella Meeker of the RAND Corporation. The letter was written at the eighth grade reading level in English and Spanish. It explained why antibiotics could sometimes do more harm than good and emphasized the clinician's commitment to appropriate antibiotic prescribing.
The study involved 14 physicians and nurse practitioners who saw close to 1,000 adult patients with acute respiratory infections during a year. After baseline numbers were collected, half the patients were directed to clinicians who displayed the commitment letter in exam rooms. For comparison, the other half continued to receive standard care. The intervention period lasted for 12 weeks during the peak of flu season.
The posted commitment letter resulted in nearly 20% fewer inappropriate antibiotic prescriptions. Baseline rates for inappropriate prescriptions were 44% and 43% for the control and poster groups, respectively. During the intervention period, inappropriate prescription rates were 53% for controls but 34% for the poster group.
"This intervention is a unique addition to interventions that have decreased inappropriate antibiotic prescribing for respiratory infections. Most other interventions have been focused on reminders or education and this is a novel, low-cost approach," says co-author Dr. Jeffrey Linder of Brigham and Women's Hospital and Harvard Medical School.
"Our group is interested in testing commitment devices in other areas of primary care where changes in provider practices are needed," Doctor adds. While these findings are promising, they will need to be confirmed in larger studies. This and other approaches will be needed to further reduce the inappropriate use of antibiotics.
—by Harrison Wein, Ph.D.
Related Links
References: Nudging Guideline-Concordant Antibiotic Prescribing: A Randomized Clinical Trial. Meeker D, Knight TK, Friedberg MW, Linder JA, Goldstein NJ, Fox CR, Rothfeld A, Diaz G, Doctor JN. JAMA Intern Med. 2014 Jan 27. doi:10.1001/jamainternmed.2013.14191. [Epub ahead of print]. PMID: 24474434.
Funding: NIH's National Institute on Aging (NIA).