You are here
February 10, 2014
Development of Antibiotics to Treat Tuberculosis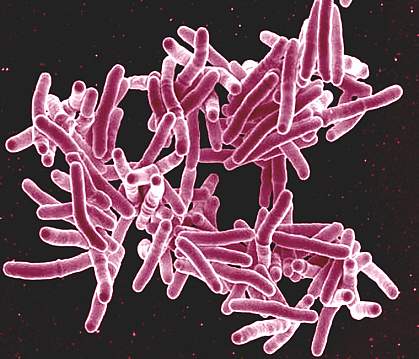 NIAID
Researchers designed and tested a class of new antibiotics to treat tuberculosis. The work represents an initial step in developing therapies to combat drug-resistant forms of the disease.
TB is a contagious disease caused by infection with Mycobacterium tuberculosis (Mtb) bacteria. It's spread through the air and usually affects the lungs. It's a leading cause of disability worldwide and results in 1.3 million deaths per year.
TB is treated with antibiotic drugs. However, the bacteria can evolve to become resistant to these medications. Multidrug-resistant (MDR) TB currently requires treatment for up to 2 years with several antibiotics that may have serious side effects. Extensively drug-resistant (XDR) TB has been reported in 92 countries, with some strains resistant to all available drugs.
An international research team led by Dr. Richard E. Lee of St. Jude Children's Research Hospital in Memphis set out to develop new drugs that could work against drug-resistant strains of Mtb but have minimal side effects. The study was funded in part by NIH's National Institute of Allergy and Infectious Diseases (NIAID) and included NIAID researchers. Results were published in the February 2014 issue of Nature Medicine.        
The scientists began with spectinomycin, a bacterially derived antibiotic used to treat gonorrheal infections. The drug has minimal side effects but doesn't protect against TB. Spectinomycin works by binding to bacteria's ribosomes, which are a crucial part of the cell's protein-making machinery.
The researchers analyzed the drug's structure and made various chemical modifications to create a new class of agents known as spectinamides. The compounds have a high affinity for ribosomes in TB-causing bacteria, but not for those in mammalian cells. They also avoid being pumped out of the bacteria, thus making them more potent.
The researchers demonstrated that the spectinamides were active against both MDR and XDR Mtb. The scientists analyzed the compounds to make sure they weren't toxic in laboratory assays and in animals, and that their effects were specific enough to minimize the possibility of side effects or adverse reactions. They also determined that the compounds would likely only have minimal interactions with other drugs.
The group identified a set of spectinamides that proved to be highly effective against acute and chronic Mtb infections in mice. The compounds increased survival of the animals and appeared to be well tolerated.
"This study demonstrates how classic antibiotic substances derived from natural products can be redesigned to create potent semi-synthetic compounds that overcome intrinsic drug resistance mechanisms," Lee says. "I hope the result will be drugs that are more effective against tuberculosis and offer a faster route to a cure with fewer side effects."
This work represents an initial step in the development of a new class of drugs to treat TB. More clinical follow-up work is ongoing.
—by Carol Torgan, Ph.D.
Related Links
References: Spectinamides: a new class of semisynthetic antituberculosis agents that overcome native drug efflux. Lee RE, Hurdle JG, Liu J, Bruhn DF, Matt T, Scherman MS, Vaddady PK, Zheng Z, Qi J, Akbergenov R, Das S, Madhura DB, Rathi C, Trivedi A, Villellas C, Lee RB, Rakesh, Waidyarachchi SL, Sun D, McNeil MR, Ainsa JA, Boshoff HI, Gonzalez-Juarrero M, Meibohm B, Böttger EC, Lenaerts AJ. Nat Med. 2014 Feb;20(2):152-8. doi: 10.1038/nm.3458. Epub 2014 Jan 26. PMID: 24464186.
Funding: NIH's National Institute of Allergy and Infectious Diseases (NIAID), the American Lebanese Syrian Associated Charities, St. Jude Children's Research Hospital, and the Spanish Government.