You are here
August 15, 2017
Risk factors for heart disease linked to dementia
At a Glance
A large, long-term study showed that certain heart disease risk factors in midlife—diabetes, elevated blood pressure, and smoking cigarettes—are associated with an increased risk for dementia.
The analysis strengthens and broadens previous findings and may help inform dementia prevention efforts.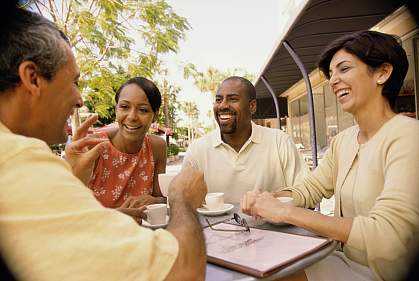 Purestock/Thinkstock
People with dementia have problems thinking, remembering, and communicating. They may repeat the same question over and over, get lost in familiar places, or have other problems managing everyday life.
Dementia can be caused by a number of disorders, such as strokes, brain tumors, Alzheimer's disease, and late-stage Parkinson's disease. Most forms of dementia slowly worsen. Risk factors include aging, diabetes, high blood pressure (hypertension), smoking cigarettes, and a family history of dementia.
Past studies suggest that problems in the vascular system—the heart and blood vessels that supply blood to the brain—can contribute to the development of dementia. To explore the effect of vascular risk factors on dementia, a research team led by Dr. Rebecca Gottesman at Johns Hopkins University studied nearly 16,000 middle-aged people who participated in the Atherosclerosis Risk in Communities (ARIC) study. ARIC was funded by NIH's National Heart, Lung, and Blood Institute (NHLBI). The current study was also supported by NIH's National Institute of Neurological Disorders and Stroke (NINDS). Results were published online on August 7, 2017, in JAMA Neurology.
The people enrolled in the study were between 44 and 66 years old in 1987-1989 and located in four states. Over a 25-year period, the researchers examined the participants five times with a variety of medical tests. Cognitive tests of memory and thinking were given during the second, fourth, and fifth exams. In addition to in-person visits, the researchers collected health data from telephone interviews, caregiver interviews, hospitalization records, and death certificates.
More than 1,500 of the participants were diagnosed with dementia over the 25-year period. The analysis confirmed prior findings that those with vascular risk factors in midlife, such as diabetes or hypertension, had a greater chance of developing dementia as they aged. Also confirming other studies, smoking cigarettes increased the risk of dementia (although this effect was seen only in white people). In addition, the researchers detected a higher risk of dementia among people with prehypertension, in which blood pressure levels are higher than normal but lower than hypertension.
The team reanalyzed the data to determine whether having had a stroke influenced these associations. They found that diabetes, hypertension, prehypertension, and smoking during midlife increased the risk of developing dementia whether or not the person had a stroke.
"With an aging population, dementia is becoming a greater health concern. This study supports the importance of controlling vascular risk factors like high blood pressure early in life in an effort to prevent dementia as we age," says NINDS Director Dr. Walter J. Koroshetz. "What's good for the heart is good for the brain." 
Related Links
References: Associations Between Midlife Vascular Risk Factors and 25-Year Incident Dementia in the Atherosclerosis Risk in Communities (ARIC) Cohort. Gottesman RF, Albert MS, Alonso A, Coker LH, Coresh J, Davis SM, Deal JA, McKhann GM, Mosley TH, Sharrett AR, Schneider ALC, Windham BG, Wruck LM, Knopman DS. JAMA Neurol. 2017 Aug 7. doi: 10.1001/jamaneurol.2017.1658. [Epub ahead of print]. PMID: 28783817.
Funding: NIH's National Heart, Lung, and Blood Institute (NHLBI) and National Institute of Neurological Disorders and Stroke (NINDS).