You are here
February 25, 2008
The Role of Diet in Metabolic Syndrome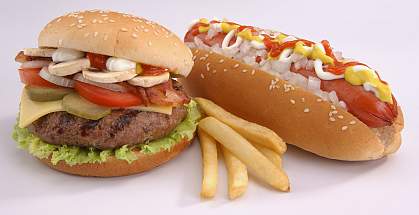 A new study has implicated meat, fried food and, surprisingly, diet soda in the development of metabolic syndrome. More research will now be needed to confirm and explain these intriguing findings.
Metabolic syndrome is a cluster of conditions that increases the risk for heart disease and stroke. Doctors consider someone to have metabolic syndrome when they have 3 or more risk factors, which include elevated blood pressure, low HDL (good cholesterol) levels and diabetes or pre-diabetes.
Various aspects of diet have been linked to metabolic syndrome in previous studies, but the diet's role in the syndrome's genesis isn't well understood. Dr. Lyn M. Steffen at the University of Minnesota's School of Public Health and her colleagues set out to take a broad look at the relationship between metabolic syndrome and dietary intake. They used data from 9,514 middle-aged adults enrolled in the multicenter Atherosclerosis Risk in Communities (ARIC) study. The study was initiated by NIH's National Heart, Lung and Blood Institute (NHLBI) to investigate the factors that contribute to atherosclerosis (the buildup of cholesterol and fat in the walls of arteries) and the incidence of cardiovascular diseases.
ARIC assessed dietary intake, both at the beginning of the study and 6 years later, by using a 66-item food frequency questionnaire. By 9 years later, nearly 40% of the study's participants had developed metabolic syndrome. The new analysis of ARIC data appeared in the February 19, 2008, issue of Circulation.
The study found that a Western dietary pattern—characterized by high intakes of refined grains, processed meat, fried foods and red meat—was associated with a greater risk of developing metabolic syndrome. Upon closer analysis, the researchers found that those who ate the most meat were more likely to develop metabolic syndrome. In particular, hamburgers, hot dogs and processed meats were each associated with higher rates of metabolic syndrome. Fried foods were also associated with an increased risk.
The researchers didn't find any association, positive or negative, between metabolic syndrome and whole grains, refined grains, nuts, coffee or fruits and vegetables. On the other hand, they found that those who ate more dairy were less likely to develop metabolic syndrome.
Strikingly, diet soda was strongly associated with an increased risk for metabolic syndrome, although sweetened beverages such as juices and regular soda were not. Other recent studies have found links between diet soda and metabolic syndrome as well as weight gain. As a possible explanation, findings in rodents suggest that artificial sweeteners may lead to increased intake because they may interfere with the body's ability to properly assess how many calories are in foods.
These findings, however intriguing, are not conclusive. Whole grains have been found in previous studies to lower the risk of metabolic syndrome, but this study didn't. Certain foods in themselves may not play a role in causing metabolic syndrome, but rather may serve as markers for other behaviors that do lead to metabolic syndrome. More research into what causes metabolic syndrome will hopefully clear up the confusion.
—by Harrison Wein, Ph.D.
Related Links