You are here
June 4, 2012
Sigmoidoscopies Decrease Colon Cancer Deaths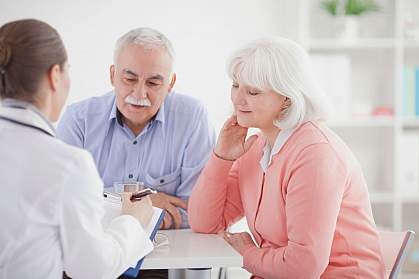 Screening using sigmoidoscopy helps prevent colorectal cancer and reduce deaths from the disease, a new study reports.
Colorectal cancer is the second-leading cause of cancer-related deaths nationwide. In 2012, more than 143,000 people will be diagnosed with the disease, and over 52,000 people will die from it. Proper screening can detect colorectal cancer before symptoms develop, when it is easiest to treat.
Screening methods like colonoscopy and sigmoidoscopy can detect and remove polyps that can lead to cancer. There is strong evidence that colonoscopy, which involves a long, flexible tube used to view the whole colon, can reduce deaths from colorectal cancer. In sigmoidoscopy, a doctor examines only the lower, or sigmoid, part of the colon using a thin, flexible tube. Sigmoidoscopy has fewer side effects, involves less bowel preparation and has less chance of tearing the intestine than colonoscopy. However, the effectiveness of sigmoidoscopy was still in question.
Researchers of the ongoing multicenter Prostate, Lung, Colorectal and Ovarian (PLCO) Cancer Screening Trial set out to learn whether sigmoidoscopy screening reduces colorectal cancer cases and deaths. The study enrolled nearly 155,000 patients, ages 55-74, between 1993 and 2001. Half of the participants were randomly assigned to the flexible sigmoidoscopy group. They were offered sigmoidoscopy screening once on entering the study and again 3 to 5 years later. Those in the usual care group received screening only if they asked for it or if their physician recommended it.
The participants were followed for approximately 12 years to collect data on cancer diagnoses and deaths. Those with abnormal screening results were referred to their doctors to discuss next steps. Most underwent subsequent colonoscopy. The study, funded by NIH's National Cancer Institute (NCI), appeared on May 21, 2012, in the early online edition of the New England Journal of Medicine.
The researchers found that sigmoidoscopy screening reduced colorectal cancer cases by 21% (1,012 cases, compared to 1,287 in the usual care group). The screening reduced colorectal cancer deaths by 26% (242 compared to 341). Patients in the sigmoidoscopy group had a 29% decrease (479 vs. 669) in distal cancer cases (those in the rectum or lower part of the colon) and a 50% reduction in deaths from these cancers (87 vs. 175). Screening didn't reduce deaths from cancer in the proximal colon (the upper part), but did reduce the proximal cancer rate by 14% (512 vs. 595).
These results show that sigmoidoscopy screening prevents colorectal cancer deaths. The researchers estimate that they would have detected almost 16% more cancers—mostly proximal—if they used colonoscopy instead of sigmoidoscopy. However, sigmoidoscopy has never been directly compared to colonoscopy in a definitive clinical trial.
"The most important message is that, regardless of modality chosen, colorectal cancer screening lowers mortality from colorectal cancer, and all individuals 50 and over should be screened," said PLCO study lead Dr. Christine Berg of NCI's Early Detection Research Group.
Related Links
References: N Engl J Med. 2012 May 21. [Epub ahead of print]. PMID: 22612596