You are here
June 23, 2020
Signature of virus exposure may help detect liver cancer
At a Glance
A blood test that measures people's exposure to different viruses was better than existing methods at identifying those who later developed liver cancer.
If trials confirm that the test can identify liver cancer early in people at high risk, it could play an important role in improving outcomes for patients.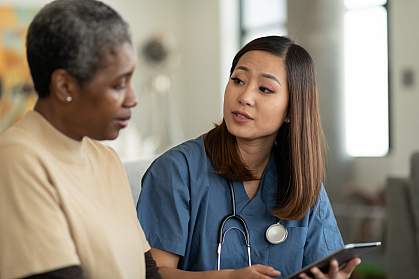 FatCamera / iStock / Getty Images Plus
Hepatocellular carcinoma (HCC) is the most common form of liver cancer. The incidence of HCC continues to rise in the U.S., along with deaths from the disease. Most people with HCC only feel symptoms once the tumors are large or have spread. So the disease is usually diagnosed at an advanced stage, making successful treatment unlikely.
One of the major risk factors for HCC is infection with one of two viruses, hepatitis B (HBV) and hepatitis C (HCV). Hepatitis C can now be cured, but people who've been infected still have an increased risk of HCC. Other risk factors include heavy alcohol use, obesity, and fatty liver disease.
Some medical guidelines recommend screening people at high risk of HCC regularly using imaging and a blood test for a protein called alpha-fetoprotein. However, this strategy hasn't been widely effective.
Researchers led by Dr. Xin Wei Wang from NIH's National Cancer Institute (NCI) explored whether measuring people's lifetime exposure to viruses could help predict their risk of developing HCC. In addition to the known risk from HBV and HCV, interactions between other viruses and the human immune system might also affect people's risk of developing cancer.
The team used a blood test called VirScan to identify antibodies to more than 1,000 viral strains in people at high risk of HCC. The immune system makes such antibodies when it's been exposed to a virus. Results were published on June 9, 2020, in Cell.
Wang and his colleagues first tested VirScan on blood samples taken from about 900 people enrolled in a study tracking the development of HCC over time. They identified a "viral signature" of exposure to 61 viruses that differed substantially between people diagnosed with HCC and those without the disease.
The team next tested whether the viral signature could be seen in the blood before people developed HCC. They used blood samples from 173 people at high risk of liver cancer who were tracked for up to 20 years as part of another study. During that time, 44 developed the disease.
The viral signature was able to distinguish which people would go on to develop HCC much more accurately than the alpha-fetoprotein test. It identified almost all people with HCC when used on samples taken at the time of diagnosis. It also identified most people who were eventually diagnosed with HCC in samples taken upon enrollment in the study, an average of almost 9 years before diagnosis.
"Together with existing screening tests, the new test could play an important role in screening people who are at risk for developing HCC," Wang says.
The researchers are planning to test their viral signature in a new study of people at high risk of HCC who have not yet developed the disease.
Related Links
References: A Viral Exposure Signature Defines Early Onset of Hepatocellular Carcinoma. Liu J, Tang W, Budhu A, Forgues M, Hernandez MO, Candia J, Kim Y, Bowman ED, Ambs S, Zhao Y, Tran B, Wu X, Koh C, Surana P, Liang TJ, Guarnera M, Mann D, Rajaure M, Greten TF, Wang Z, Yu H, Wang XW. Cell. 2020 Jun 9:S0092-8674(20)30671-1. doi: 10.1016/j.cell.2020.05.038. Online ahead of print. PMID: 32526205.
Funding: NIH's National Cancer Institute (NCI) and Office of Intramural Research.