You are here
June 17, 2013
Simple Lifestyle Test May Assess Stroke Risk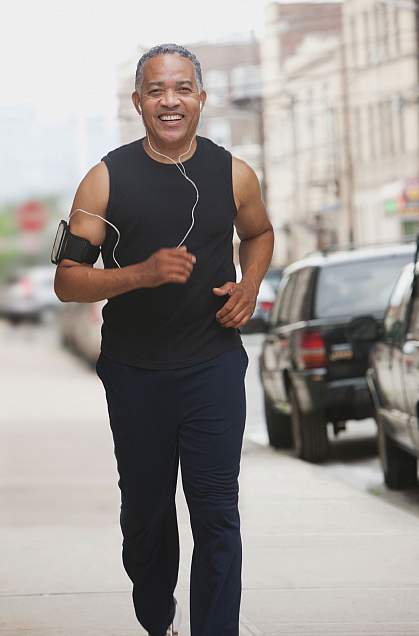 Adults who score higher on Life's Simple 7 (LS7), a tool used to assess cardiovascular disease risk, may have a reduced risk of stroke, according to a large analysis. Even small improvements in lifestyle factors were associated with lower stroke risk.
Stroke is the fourth leading cause of death nationwide and the leading cause of disability in adults. A stroke occurs when blood vessels that supply the brain become ruptured or blocked. When blood can't bring nutrients and oxygen to brain cells, the cells stop functioning and die. Many of the factors that affect the risk of having a stroke are related to lifestyle choices that can be controlled or modified.
LS7, developed by the American Heart Association to track health status, measures compliance with healthy guidelines for 7 modifiable health factors: blood glucose, cholesterol, blood pressure, body mass index, physical activity, diet and cigarette smoking. Each of these factors can be categorized into ideal, intermediate or poor levels of compliance. A high score on the LS7 has been linked to low rates of cardiovascular disease and death.
A team led by Dr. Ambar Kulshreshtha at Emory University and Dr. Mary Cushman at the University of Vermont explored whether the LS7 metric could be used to assess stroke risk. The researchers studied almost 23,000 people, 42% black and 58% women, with an average age of 65 years. The participants, who were part of a large, ongoing study called the Reasons for Geographic and Racial Differences in Stroke (REGARDS), were enrolled between 2003 and 2007. They completed a telephone interview and an in-home physical exam. The REGARDS study was funded by NIH's National Institute of Neurological Disorders and Stroke (NINDS).
Each of the 7 health factors was scored as 0, 1, or 2 to represent poor, intermediate or ideal health. For example, current smokers were scored as "poor" for the smoking factor, former smokers who quit within the prior 12 months were scored as "intermediate" and those who never smoked or who quit more than 12 months ago were scored as "ideal." Total scores were categorized as inadequate (0–4), average (5–9) or optimum (10–14) cardiovascular health. Results appeared online on June 6, 2013, in Stroke.
Over an average follow-up of 5 years, there were 432 strokes among the participants. The researchers found that, after adjusting for factors such as socioeconomic status, each better LS7 score category (inadequate to average to optimum) was associated with a 25% lower risk of stroke. The association was similar for blacks and whites.
A 1-point higher total LS7 score on the 0-14 scale was linked to an 8% lower risk of stroke. Even participants with only 1 ideal factor had a lower stroke risk as compared to those with none.
"We used the assessment tool to look at stroke risk and found that small differences in health status were associated with significant reductions in stroke risk," says Cushman.
The health status scores varied widely for each of the 7 factors. For example, while 84% of participants had an ideal status for smoking, 0% had an ideal diet. Only 3% of blacks and 8% of whites had 5 or more ideal factors out of the 7. These findings highlight important opportunities for reducing the risk of stroke.
— by Carol Torgan, Ph.D.
Related Links
References: Stroke. 2013 Jun 6. [Epub ahead of print] PMID: 23743971.
Funding: NIH's National Institute of Neurological Disorders and Stroke (NINDS) and National Heart, Lung and Blood Institute (NHLBI).