You are here
February 8, 2022
Study suggests COVID-19 vaccines do not reduce fertility
At a Glance
COVID-19 vaccination did not reduce the chances of conception in a study of more than 2,000 couples.
However, infection with SARS-CoV-2 was associated with a short-term reduction in fertility in males.
The results reinforce the safety of COVID-19 vaccination for couples trying to conceive.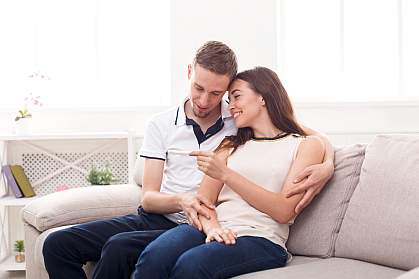 Prostock-studio / Shutterstock
The FDA-approved COVID-19 vaccines are effective in preventing infection and severe disease. Yet many Americans who are eligible for the vaccines have chosen not to get them. Many report concerns about possible side effects. For adults aged 18-39 years, potential effects on fertility are a particular concern. So far, studies have not found associations between COVID-19 vaccination and fertility. However, there is evidence that SARS-CoV-2 infection may temporarily reduce fertility.
A research team led by Dr. Amelia Wesselink at Boston University School of Public Health investigated the links between COVID-19 vaccination, SARS-CoV-2 infection, and fertility. They analyzed data from an internet-based pregnancy study that follows U.S. and Canadian couples trying to conceive over time. NIH's Eunice Kennedy Shriver National Institute of Child Health and Human Development (NICHD) funded the study. Results appeared in the American Journal of Epidemiology on January 20, 2022.
For their analysis, the team followed more than 2,000 women, 21-45 years old, from December 2020 through November 2021. All were trying to conceive without fertility treatments. Participants answered questions on income, education, lifestyle, and reproductive and medical histories. These included questions about COVID-19 vaccine status and positive SARS-CoV-2 tests. The women also provided information about their partners' vaccine status and positive tests. Male partners aged 21 and up were invited to answer similar questions. Female partners completed follow-up questionnaires every 8 weeks for up to 12 months or until they became pregnant.
The team found that the chances of conception did not change with either partner's vaccination status. The researchers adjusted for several factors that could influence the results. These included vaccine type, nationality, occupation, and history of infertility. Doing so did not affect the results. 
The overall chances of conception were not associated with past SARS-CoV-2 infection in either partner. However, the team did find that conception during a given menstrual cycle was less likely if the male partner had tested positive up to 60 days earlier. 
"Our study shows for the first time that COVID-19 vaccination in either partner is unrelated to fertility among couples trying to conceive through intercourse," Wesselink says. "Time-to-pregnancy was very similar regardless of vaccination status."
Previous studies have shown that SARS-CoV-2 infection during pregnancy, in contrast, can pose risks to both mother and baby. Pregnant women with moderate to severe COVID-19 may face a greater risk of death or serious illness from complications. Their babies may also be at greater risk of preterm birth, stillbirth, or newborn death. Vaccination can help avert these risks.
Related Links
References: A prospective cohort study of COVID-19 vaccination, SARS-CoV-2 infection, and fertility. Wesselink AK, Hatch EE, Rothman KJ, Wang TR, Willis MD, Yland J, Crowe HM, Geller RJ, Willis SK, Perkins RB, Regan AK, Levinson J, Mikkelsen EM, Wise LA. Am J Epidemiol. 2022 Jan 20:kwac011. doi: 10.1093/aje/kwac011. Online ahead of print. PMID: 35051292.
Funding: NIH's Eunice Kennedy Shriver National Institute of Child Health and Human Development (NICHD).