You are here
February 8, 2022
Oral immunotherapy for peanut allergy in young children
At a Glance
Giving peanut oral immunotherapy—daily doses of peanut flour—to children ages 1 to 3 with peanut allergies desensitized most and induced remission of the allergy in 21%.
The findings advance the development of treatment for children with peanut allergy.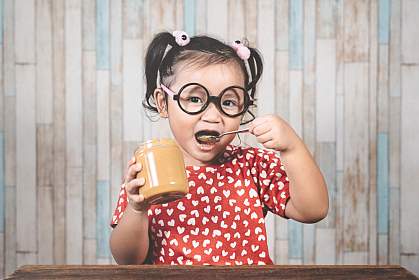 Hafiez Razali / Shutterstock
Peanut allergy is one of the most common food allergies and can trigger a life-threatening reaction in some. The allergy usually starts in early childhood and lasts a lifetime. There is presently no cure. Most people remain allergic their entire lives.
Researchers have been exploring oral immunotherapy to treat peanut allergy. This involves giving people increasing doses of peanut flour over time in order to desensitize them to peanut. Providing such oral immunotherapy early in life, when the immune system is still maturing, might more effectively modify a child's immune response to peanut than waiting until later. Two earlier studies provided evidence that peanut oral immunotherapy could be given safely to very young children and have a therapeutic effect.
A new clinical trial further assessed whether oral immunotherapy could treat peanut allergy in very young children. The study, which was led by Drs. Wesley Burks of the University of North Carolina at Chapel Hill and Stacie Jones of Arkansas Children's Hospital, was funded by NIH's National Institute of Allergy and Infectious Diseases (NIAID). Results appeared in the Lancet on January 22, 2022.
The trial included 146 children ages 1 through 3 at five U.S. medical centers. All the children experienced an allergic reaction after eating 0.5 grams or less of peanut protein at the start of the trial. They were randomly assigned to receive either flour containing peanut protein or a placebo oat flour that looked similar. The flours were mixed with foods such as applesauce or pudding to mask their taste.
Over 30 weeks, the children in the treatment group ate gradually increasing daily doses of peanut protein. Their maximum dose was 2 grams of peanut protein, equivalent to about six to eight peanuts. The children then continued their daily doses for an additional two years.
Next, they underwent an oral food challenge. They received gradually increasing doses of peanut protein, to a total of 5 grams. The researchers found that 71% of children who had received peanut flour were desensitized to peanut, compared to only 2% of those who had received the placebo flour. Desensitization was defined as being able to eat 5 grams of peanut protein without an allergic reaction.
The children then stopped treatment and avoided peanut for six months. At the end of this period, the children underwent another oral food challenge to a total of 5 grams of peanut protein. Those who did not have an allergic reaction were later fed 8 grams of peanut butter, equivalent to 2 tablespoons, to confirm that they could eat peanut without having an allergic reaction.
The team found that 21% of children who had received peanut flour could eat peanut six months after treatment without having an allergic reaction. These children were considered to be in remission. Only 2% of children who had received placebo flour were in remission.
The study also found that the youngest children and those who started the trial with lower levels of peanut-specific antibodies were most likely to achieve remission. 
"The landmark results of the trial suggest a window of opportunity in early childhood to induce remission of peanut allergy through oral immunotherapy," says NIAID Director Dr. Anthony Fauci. "It is our hope that these study findings will inform the development of treatment modalities that reduce the burden of peanut allergy in children."
Related Links
References: Efficacy and safety of oral immunotherapy in children aged 1-3 years with peanut allergy (the Immune Tolerance Network IMPACT trial): a randomised placebo-controlled study. Jones SM, Kim EH, Nadeau KC, Nowak-Wegrzyn A, Wood RA, Sampson HA, Scurlock AM, Chinthrajah S, Wang J, Pesek RD, Sindher SB, Kulis M, Johnson J, Spain K, Babineau DC, Chin H, Laurienzo-Panza J, Yan R, Larson D, Qin T, Whitehouse D, Sever ML, Sanda S, Plaut M, Wheatley LM, Burks AW; Immune Tolerance Network. Lancet. 2022 Jan 22;399(10322):359-371. doi: 10.1016/S0140-6736(21)02390-4. PMID: 35065784.
Funding: NIH's National Institute of Allergy and Infectious Disease (NIAID).