You are here
March 19, 2019
Supportive parenting can reduce child's anxiety
At a Glance
Teaching parents ways to respond to their child's anxiety may reduce symptoms as well as the standard therapy treatment for childhood anxiety.
The findings suggest that parent-based treatments may provide another effective treatment strategy for childhood anxiety.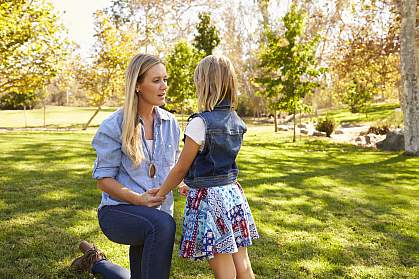 monkeybusinessimages / iStock / Thinkstock
All kids feel fearful from time to time. The types of fears they experience can change as they age. But if they don't outgrow their fears or if their worries go on for too long, they may have an anxiety disorder. Children with anxiety disorders may act irritably or angry, have trouble sleeping, or experience physical issues like headaches or stomach aches. They can have significant problems in social interactions, school, and home life.
The most effective treatment for anxiety disorders is cognitive behavioral therapy, which teaches people healthy ways to cope with their worries and emotions. But some children won't try the therapy or don't follow the treatment correctly. Of those children who do complete the therapy, only about half respond.
Studies have shown that a parent's involvement in their child's treatment can also help reduce anxiety. Parents are in a unique position to help, since their kids naturally rely on them for reassurance and protection. However, while some ways of accommodating a child's fears may lessen their anxiety at the time, they can also prevent the child from learning how to deal with their worries on their own as they get older. For example, a parent might sleep with a child who has separation anxiety or avoid inviting guests over when a child has social phobia.
To determine whether teaching parents strategies for responding to their child's anxiety works as well as cognitive behavioral therapy, a team led by Dr. Eli Lebowitz at the Yale Child Study Center tested a program called Supportive Parenting for Anxious Childhood Emotions (SPACE). SPACE helps parents identify which accommodating behaviors they can reduce and teaches them new ways to respond. The research was supported by NIH's National Institute of Mental Health (NIMH) and National Center for the Advancement of Translational Science (NCATS). Results were published online on March 6, 2019, in Journal of the American Academy of Child & Adolescent Psychiatry.
Researchers randomly assigned 124 children, aged 7 to 14, who had been diagnosed with an anxiety disorder to either the standard cognitive behavioral therapy or assigned their parents to the SPACE program. Each treatment program consisted of 12 weekly 60-minute sessions with a therapist.
Parents assigned to the SPACE program learned supportive ways to respond to their child's anxiety and communicate their confidence in their ability to cope with their feelings. They worked with the counselor to identify which accommodations to reduce for the child and to create a plan for doing so. Parents were also given problem-solving strategies for responding to their child's reactions to the changes.
Children assigned to the cognitive behavioral therapy received standard treatment from a counselor to learn about anxiety and strategies they could use to cope with their worries. Their parents were only given information about the therapy the child was receiving.
Both treatments reduced the children's level of anxiety and anxiety-related emotional disorders to a similar degree. Parents of both groups experienced drops in parenting-related stress. The finding suggest that both approaches work equally well to reduce childhood anxiety.
"There are currently two evidence-based treatments for anxiety—medication and cognitive behavioral therapy," Lebowitz says. "Yet only half the children respond to these therapies, so there is a great need for alternate treatments."
—by Tianna Hicklin, Ph.D.
Related Links
References: Parent-Based Treatment as Efficacious as Cognitive Behavioral Therapy for Childhood Anxiety: A Randomized Noninferiority Study of Supportive Parenting for Anxious Childhood Emotions. Lebowitz ER, Marin C, Martino A, Shimshoni Y, Silverman WK. J Am Acad Child Adolesc Psychiatry. 2019 Mar 6. pii: S0890-8567(19)30173-X. doi: 10.1016/j.jaac.2019.02.014. [Epub ahead of print] PMID: 30851397.
Funding: NIH's National Institute of Mental Health (NIMH) and National Center for the Advancement of Translational Science (NCATS).