You are here
September 22, 2008
Virtual Colonoscopies Rival Accuracy of Standard Ones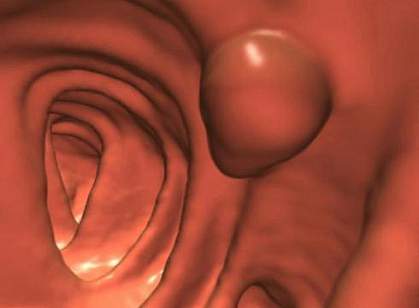 r. Perry J. Pickhardt, University of Wisconsin Medical School
Virtual colonoscopy, an advanced imaging technique, can detect most of the large precancerous and cancerous polyps that can be found by standard colonoscopy, according to a new study. The virtual exam might be an acceptable option for patients who resist the more invasive standard procedure, in which a long, flexible tube with a camera is guided through the entire length of the colon.
Colorectal cancer is the third most-often diagnosed cancer and the second leading cause of cancer death in the United States. Routine screening can help to reduce the death toll. But despite this known benefit, the majority of Americans age 50 and older don't get screened for the disease, partly because of the discomfort involved.
Researchers have been developing and testing a less invasive approach called computerized tomographic (CT) colonography, or virtual colonoscopy. The technique uses X-rays and computer-based virtual reality technologies to produce 3-D images and videos of the lining of the rectum and colon. Recent studies have suggested that CT colonography can be nearly as accurate as conventional colonoscopy in detecting clinically important large colorectal polyps, but questions were raised about its ability to detect smaller polyps.
A new clinical trial, funded by NIH's National Cancer Institute (NCI), is the largest multi-center study to compare the accuracy of the 2 screening techniques. The study evaluated more than 2,500 patients, age 50 or older, at 15 sites nationwide. Each participant had a CT colonography followed by a standard colonoscopy, with 99% of both exams completed on the same day. Both procedures require that patients adhere to a strict bowel-cleansing process the day before, including laxatives and a clear-liquid diet. As usual during standard colonoscopy, physicians removed any suspicious polyps or tissues for further analysis.
The results, reported in the September 18, 2008, issue of the New England Journal of Medicine, showed that nearly 300 patients had at least 1 precancerous or cancerous polyp measuring a half-centimeter or more in diameter. About a third of these patients had larger tumors, measuring at least 1 cm.
CT colonography identified about 90% of the patients who had larger tumors detected by standard colonoscopy. As in previous studies, the CT technique's sensitivity declined with smaller tumors. Overall, it identified about 65% of the patients who had tumors measuring a half-centimeter or more detected by regular colonoscopy.
Although the virtual scan is not as accurate as the standard procedure, it may be more appealing for those put off by the long tube and sedation used for standard colonoscopy.
"The most important advice we can give to patients is to get screened," said study coauthor Dr. Paul Limburg of the Mayo Clinic in Rochester, Minnesota. "How they get screened should be an individual decision based upon discussions between patients and their providers."
Related Links