You are here
November 18, 2013
Weight Loss in Adults 3 Years After Bariatric Surgery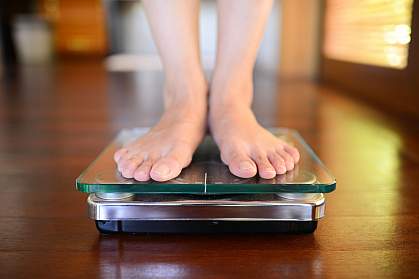 Severely obese adults who had bariatric surgery had substantial weight loss 3 years later but varied greatly in both the amount of weight lost and in the effects on related conditions, including diabetes and high blood pressure. These and other findings may offer insight into who may be most likely to benefit from the procedures.
More than 1 in 3 Americans is obese, and an increasing number are severely obese, with a body mass index of 35 or higher. Obesity is a risk factor for a range of diseases, including type 2 diabetes and heart disease.
The most effective way for people with severe obesity to lose large amounts of weight is with bariatric surgery, operations that alter the stomach and/or intestines. Bariatric procedures are designed to reduce food intake. Some also decrease the absorption of calories and nutrients. Bariatric procedures promote weight loss and can improve weight-related health conditions. But the surgical approach also carries risks.
An NIH-funded consortium is analyzing the benefits and risks of bariatric surgery. Researchers followed more than 2,400 people, ages 18 to 78 years, who had bariatric surgery between 2006 and 2009. Participants' median weight was 284 pounds; their median BMI was 45.9. The work was funded by NIH's National Institute of Diabetes and Digestive and Kidney Diseases (NIDDK) and National Center for Research Resources (NCRR). Results appeared online in a series of papers on November 4, 2013, in the Journal of the American Medical Association (JAMA) and related JAMA journals.
More than 1,700 participants had gastric bypass surgery, in which the stomach's size is reduced to a small pouch that is connected to the small bowel, bypassing the rest of the stomach. About 600 had laparoscopic adjustable gastric banding, which involves placing a small ring-like band around the top of the stomach to restrict food intake.
Three years after surgery, participants who had gastric bypass had a median weight loss of 90 pounds (31% initial weight lost). Adults who had gastric banding had a median weight loss of 44 pounds (16% weight lost).
The majority of weight loss occurred within a year after surgery. However, there was great variability in the amount and pattern of weight loss. The researchers identified 5 distinct patterns of weight change. The team also found great variability in changes in diabetes, blood pressure, and lipid outcomes. Several adverse outcomes followed the surgeries, including the need for additional bariatric procedures and a limited number of deaths.
Related papers reported other aspects of the study. For example, a group of more than 100 women surveyed 2 years after bariatric surgery had improvements in sex hormone levels and sexual functioning.
"Bariatric surgery is not a 'one size fits all' approach to weight loss," says study leader Dr. Anita Courcoulas of the University of Pittsburgh Medical Center. "Our study findings are the result of data collected from a multicenter patient population, and emphasize the heterogeneity in weight change and health outcomes for both types of bariatric surgery that we report. Longer term follow-up of this carefully studied cohort will determine the durability of these improvements over time and identify the factors associated with the variability in effect."
The researchers will continue to monitor the effects of bariatric surgery on the participants' health and quality of life. One research challenge is to understand how to identify which patients are most likely to benefit from any of the procedures.
— by Carol Torgan, Ph.D.
Related Links
References: Weight change and health outcomes at 3 years after bariatric surgery among individuals with severe obesity. JAMA. 2013 Nov 4. doi: 10.1001/jama.2013.280928. [Epub ahead of print] PMID: 24189773. Validity of self-reported weights following bariatric surgery. JAMA. 2013 Nov 4. doi: 10.1001/jama.2013.281043. [Epub ahead of print] PMID: 24189698. Changes in Sexual Functioning and Sex Hormone Levels in Women Following Bariatric Surgery. JAMA Surg. 2013 Nov 4. doi: 10.1001/jamasurg.2013.5022. [Epub ahead of print] PMID: 24190440. Perioperative Outcomes of Adolescents Undergoing Bariatric Surgery: The Teen-Longitudinal Assessment of Bariatric Surgery (Teen-LABS) Study. JAMA Pediatr. 2013 Nov 4. doi: 10.1001/jamapediatrics.2013.4296. [Epub ahead of print]. PMID: 24189578.
Funding: NIH's National Institute of Diabetes and Digestive and Kidney Diseases (NIDDK) and National Center for Research Resources (NCRR).