You are here
May 10, 2016
Well water associated with bladder cancer risk in New England
At a Glance
Researchers found a link between drinking from private dug wells established prior to 1960 and elevated bladder cancer risk in 3 northern New England states.
Estimates of the cumulative arsenic exposure from drinking water showed an increasing bladder cancer risk with increasing exposure to the chemical.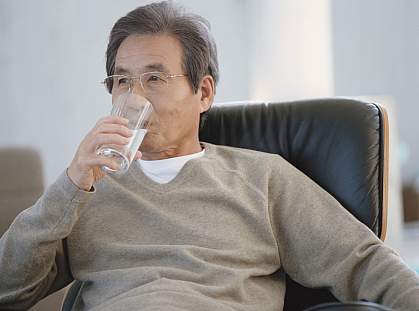 Digital Vision/DigitalVision/Thinkstock
Bladder cancer is a disease in which malignant (cancer) cells form in the tissues of the bladder. In northern New England, bladder cancer death rates among both men and women have been elevated for over half a century.
To explore potential reasons for these higher rates, a team of scientists led by Dr. Debra Silverman at NIH's National Cancer Institute (NCI) conducted a large population-based case-control study. The study was carried out in Maine, New Hampshire, and Vermont, where the incidence of bladder cancer has been about 20% higher than for the United States overall.
The researchers interviewed more than 1,200 people who were newly diagnosed with bladder cancer. For comparison, they interviewed more than 1,400 people without bladder cancer who matched the geographic location, sex, race/ethnicity, and age range of the patients. The team collected information on known and suspected risk factors, including smoking, occupation, ancestry, use of wood-burning stoves, consumption of various foods, and water intake. Results were published online on May 2, 2016, in the Journal of the National Cancer Institute.
Smoking and employment in high-risk occupations (such as metalworking) showed associations with bladder cancer in this population, but not higher than expected for these known bladder cancer risk factors. Of all the other factors, only water intake showed any relationship to bladder cancer risk. The team observed a trend of increasing bladder cancer risk with increasing daily water intake for people who used private wells. In particular, this trend was strong among those who drank exclusively from shallow dug wells, with more than a doubling of risk among those who drank greater than 2.2 liters per day. No overall trend was seen for those who drank exclusively from deeper drilled wells.
The bladder cancer risk associated with heavy water intake was substantially elevated for those who started using a dug well before 1960—a time when arsenic-based pesticide application was commonplace in this region. Arsenic exposure is an established cause of bladder cancer. The researchers were unable to precisely measure arsenic exposure. Instead, they estimated each person's level of arsenic ingestion based on current levels and historical information. Their analysis found that increasing daily intake of arsenic and cumulative exposure levels were both associated with increasing bladder cancer risk.
"There are effective interventions to lower arsenic concentrations in water," Silverman says. "New England has active public health education campaigns instructing residents to test their water supply and to install and maintain filters if levels are above the EPA threshold. But we should emphasize that smoking remains the most common and strongest risk factor for bladder cancer, and therefore smoking cessation is the best method for reducing bladder cancer risk."             
Related Links
References: Elevated Bladder Cancer in Northern New England: The Role of Drinking Water and Arsenic. Baris D, Waddell R, Beane Freeman LE, Schwenn M, Colt JS, Ayotte JD, Ward MH, Nuckols J, Schned A, Jackson B, Clerkin C, Rothman N, Moore LE, Taylor A, Robinson G, Hosain GM, Armenti KR, McCoy R, Samanic C, Hoover RN, Fraumeni JF Jr, Johnson A, Karagas MR, Silverman DT. J Natl Cancer Inst. 2016 May 2;108(9). pii: djw099. doi: 10.1093/jnci/djw099. Print 2016 Sep. PMID: 27140955.
Funding: NIH's National Cancer Institute.