You are here
October 15, 2019
African American children may need different asthma treatments
At a Glance
About half of African American children with poorly controlled asthma benefited more from higher-dose steroids than adding a bronchodilator to treatment. 
The results contrast with those seen in white children in previous studies. But African American adolescents and adults, like white adults and children, were more likely to benefit from the addition of a bronchodilator.
These findings highlight the importance of enrolling populations of diverse ages and races in clinical trials.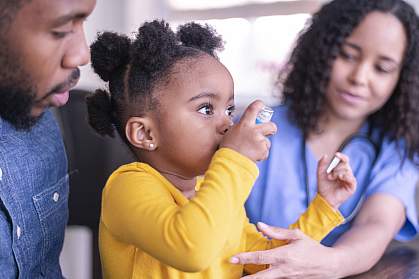 FatCamera / E+ via Getty Images
About 25 million people in the United States live with asthma—and around 7 million of these are children. Asthma disproportionately affects African American children in the U.S. This chronic lung disease inflames and narrows the airways. Symptoms include coughing, wheezing, tightness in the chest, and shortness of breath. Severe asthma attacks can lead to hospitalization and even death.
The first line of treatment for asthma is low-dose inhaled steroids. Steroids reduce inflammation in the lungs. However, these drugs fail to control asthma in some people.
Past studies have shown that adding a type of drug called a bronchodilator to steroid treatment can help with poorly controlled asthma. Bronchodilators help open up the airways. But these trials enrolled few African American participants.
To understand whether results from earlier studies apply to African Americans with asthma, researchers led by Dr. Michael Wechsler from National Jewish Health conducted two clinical trials. One enrolled 284 children from 5 to 11 years old, and the other enrolled 291 adolescents and adults.
The trial in children compared two main treatments: five times the normal dose of a steroid (fluticasone) versus doubling the steroid dose and adding a bronchodilator (salmeterol). The trial in adults tested increases in the steroid dose and different bronchodilator doses.
All participants received all experimental treatments, in sequential 14-week periods, to see which controlled their asthma the best. In addition, all participants underwent a genetic analysis to determine their ancestry. The trials were funded by NIH's National Heart, Lung, and Blood Institute (NHLBI). Results were published on September 26, 2019, in the New England Journal of Medicine.
In the adolescents and adults, the results mirrored those seen in previous trials that enrolled mostly people of European descent. More adolescents and adults had improved asthma control with the addition of a bronchodilator than with a high dose of steroids. About a quarter of these participants had the same effect on their asthma from both treatments.
The results in children, however, differed. About half had better asthma control after adding a bronchodilator, but the other half did better on a higher dose of steroids alone.
The researchers found no link between the percentage of African ancestry and response to any of the treatments. They also found no other characteristics that were linked to the patients' responses.
"This study suggests that we cannot look at results from one population and extrapolate the findings to African Americans or any other group," Wechsler says. "If children do not respond to one treatment, parents and providers could consider another option because there is almost a 50% chance of having a better response."
Related Links
References: Step-Up Therapy in Black Children and Adults with Poorly Controlled Asthma. Wechsler ME, Szefler SJ, Ortega VE, Pongracic JA, Chinchilli V, Lima JJ, Krishnan JA, Kunselman SJ, Mauger D, Bleecker ER, Bacharier LB, Beigelman A, Benson M, Blake KV, Cabana MD, Cardet JC, Castro M, Chmiel JF, Covar R, Denlinger L, DiMango E, Fitzpatrick AM, Gentile D, Grossman N, Holguin F, Jackson DJ, Kumar H, Kraft M, LaForce CF, Lang J, Lazarus SC, Lemanske RF Jr, Long D, Lugogo N, Martinez F, Meyers DA, Moore WC, Moy J, Naureckas E, Olin JT, Peters SP, Phipatanakul W, Que L, Raissy H, Robison RG, Ross K, Sheehan W, Smith LJ, Solway J, Sorkness CA, Sullivan-Vedder L, Wenzel S, White S, Israel E; NHLBI AsthmaNet. N Engl J Med. 2019 Sep 26;381(13):1227-1239. doi: 10.1056/NEJMoa1905560. PMID: 31553835.
Funding: NIH's National Heart, Lung, and Blood Institute (NHLBI).