You are here
March 13, 2018
Controlling childhood asthma
At a Glance
Children with mild to moderate, persistent asthma were just as likely to have a severe flare-up after symptoms began to worsen whether or not the dose of their inhaled steroid medicine was increased.
The findings raise doubt about the common practice of increasing inhaled steroid doses in young children when asthma symptoms begin to worsen.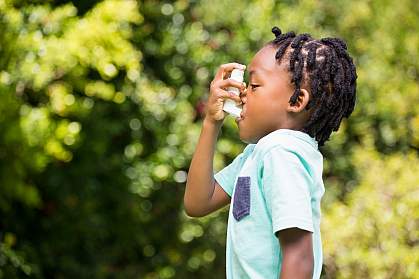 Wavebreakmedia/iStock/Thinkstock
Asthma is a long-lasting lung disease that affects about 25 million people of all ages in the United States. Of these, an estimated 7 million are children, and about 3 million are aged 5 to 11. Asthma inflames and narrows the airways, causing people to cough, wheeze, feel tightness in their chest, and have shortness of breath.
For most people, controlling asthma means taking medicine every day to prevent symptoms from developing. Using inhaled steroids is a common method of long-term control, even in young children. An asthma flare-up or attack is when symptoms get more intense or more symptoms occur. Treating symptoms right away helps prevent a severe flare-up. When needed, people take quick-acting medicine, such as inhaled albuterol, to open the airways. People may need oral steroids like prednisone for short periods to get asthma under control. A severe flare-up may require emergency care and can be fatal.
Many healthcare providers suggest increasing the dose of inhaled steroids at early signs of symptoms, such as coughing, wheezing, and shortness of breath. To test this strategy in children, a team led by Dr. Daniel J. Jackson of the University of Wisconsin asked whether a short-term increase in the dose of inhaled steroids would prevent an asthma flare-up. The study was funded by NIH's National Heart, Lung, and Blood Institute (NHLBI). Results were published on March 8, 2018, in the New England Journal of Medicine.
The researchers studied 254 children, aged 5 to 11, with mild to moderate asthma from 2016 to 2017. The children received low-dose inhaled steroids (two puffs of fluticasone from an inhaler twice daily) for 48 weeks. At the earliest signs of an asthma flare-up, half of the children used high-dose (5 times the standard dose) inhaled steroids twice daily for seven days. The other 127 children continued to use low-dose inhaled steroids during each episode. 
The team found that the increased dose made little difference in preventing severe flare-ups: 38 children in the high-dose group and 30 in the low-dose group required oral prednisone treatment at least once for a flare-up. The two groups were also similar for the number of asthma symptoms, length of time until the first severe flare-up, and use of quick-relief medicine (albuterol). The researchers also found that the growth rate was slightly less for children younger than 8 years receiving the high-dose steroid.
"These findings suggest that a short-term increase to high-dose inhaled steroids should not be routinely included in asthma treatment plans for children with mild-moderate asthma who are regularly using low-dose inhaled corticosteroids," Jackson says. "Low-dose inhaled steroids remain the cornerstone of daily treatment in affected children."
The results from this study and others can be used in the development of treatment guidelines for children with asthma who take inhaled steroids regularly.
Related Links
References: Quintupling Inhaled Glucocorticoids to Prevent Childhood Asthma Exacerbations. Jackson DJ, Bacharier LB, Mauger DT, Boehmer S, Beigelman A, Chmiel JF, Fitzpatrick AM, Gaffin JM, Morgan WJ, Peters SP, Phipatanakul W, Sheehan WJ, Cabana MD, Holguin F, Martinez FD, Pongracic JA, Baxi SN, Benson M, Blake K, Covar R, Gentile DA, Israel E, Krishnan JA, Kumar HV, Lang JE, Lazarus SC, Lima JJ, Long D, Ly N, Marbin J, Moy JN, Myers RE, Olin JT, Raissy HH, Robison RG, Ross K, Sorkness CA, Lemanske RF Jr.; National Heart, Lung, and Blood Institute AsthmaNet. N Engl J Med.2018 Mar 8;378(10):891-901. doi: 10.1056/NEJMoa1710988. Epub 2018 Mar 3. [Epub ahead of print]. PMID: 29504498.
Funding: NIH's National Heart, Lung, and Blood Institute (NHLBI).