You are here
June 4, 2019
Rethinking inhaled steroids for mild persistent asthma
At a Glance
In a short-term clinical trial, many patients with mild persistent asthma didn't respond any better to inhaled steroids than placebo.
The findings suggest a biomarker that could help guide personalized treatments for people with mild persistent asthma.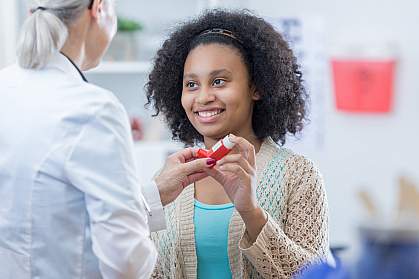 Steve Debenport / E+ via Getty Images
Asthma affects nearly 25 million Americans. Mild persistent asthma is the most common type of this respiratory condition. It's characterized by symptoms such as coughing, wheezing, and chest tightness. The symptoms occur less frequently than in people with severe asthma and are generally easier to control with steroids.
Guidelines recommend that all people with persistent asthma use steroid drugs called inhaled glucocorticoids. However, these drugs don't help everyone with asthma. The drugs are known to affect eosinophils, a type of white blood cell that causes inflammation in the lung. Past studies have estimated that about half of people with mild persistent asthma have low eosinophil levels in their sputum, the mucus and other matter that gets coughed up from the lungs.
A team led by Dr. Stephen Lazarus at the University of California, San Francisco, tested whether eosinophil levels could be used as a biomarker to predict the effectiveness of asthma treatments. They compared a steroid treatment, a nonsteroidal treatment, and an inactive placebo in 295 people over age 12 with mild persistent asthma. The research was supported by NIH's National Heart, Lung, and Blood Institute (NHLBI). Results were published on May 23, 2019, in the New England Journal of Medicine.
The researchers divided the participants into two groups: low eosinophil levels (less than 2%) and high levels (greater than or equal to 2%). About three of every four people had low eosinophils levels. The participants were randomly assigned to each of three treatment groups for 12 weeks at a time: an inhaled steroid called mometasone, a long-acting nonsteroidal treatment called tiotropium, or a placebo.
Among participants with low eosinophil levels, a similar percentage showed benefits from steroid and nonsteroidal treatments. However, the percentages who benefited weren't large enough compared with the placebo's effects to show they weren't due to chance.
In contrast, those with high eosinophil levels were nearly three times as likely to respond to inhaled steroids than placebo (74% vs 26%). The effects of the nonsteroidal treatment in this group were no different than placebo.
"We're intrigued by the results of this study and believe it raises questions about the way doctors manage mild persistent asthma," Lazarus says.
"This study adds to a growing body of evidence that different patients with mild asthma should be treated differently, perhaps using biomarkers like sputum eosinophils to select which drugs should be used—a precision medicine approach," says Dr. James Kiley, director of the Division of Lung Diseases at NHLBI.
These results may help lead to better treatment guidelines for asthma. In the meantime, people with asthma should continue to follow their doctor's recommendations.
Related Links
References: Mometasone or Tiotropium in Mild Asthma with a Low Sputum Eosinophil Level. Lazarus SC, Krishnan JA, King TS, Lang JE, Blake KV, Covar R, Lugogo N, Wenzel S, Chinchilli VM, Mauger DT, Dyer AM, Boushey HA, Fahy JV, Woodruff PG, Bacharier LB, Cabana MD, Cardet JC, Castro M, Chmiel J, Denlinger L, DiMango E, Fitzpatrick AM, Gentile D, Hastie A, Holguin F, Israel E, Jackson D, Kraft M, LaForce C, Lemanske RF Jr, Martinez FD, Moore W, Morgan WJ, Moy JN, Myers R, Peters SP, Phipatanakul W, Pongracic JA, Que L, Ross K, Smith L, Szefler SJ, Wechsler ME, Sorkness CA; National Heart, Lung, and Blood Institute AsthmaNet. N Engl J Med. 2019 May 23;380(21):2009-2019. doi: 10.1056/NEJMoa1814917. Epub 2019 May 19. PMID: 31112384.
Funding: NIH's National Heart, Lung, and Blood Institute (NHLBI).