You are here
May 8, 2018
Biomarker predicts benefit from immunotherapy
At a Glance
Researchers found a biomarker that may identify which people with chronic lymphocytic leukemia will benefit from CAR T-cell therapy.
If confirmed in larger studies, the biomarker could be used to guide treatment options.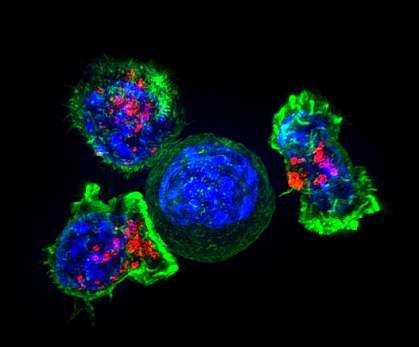 Alex Ritter, Jennifer Lippincott Schwartz, and Gillian Griffiths, NIH
Immunotherapy is a kind of cancer treatment that harnesses the body's own immune system to kill cancer cells. In chimeric antigen receptor (CAR) T-cell immunotherapy, doctors collect T cells, a type of immune cell, from the blood. The cells are then genetically engineered in the laboratory to recognize a person's specific cancer. Finally, millions of the engineered T cells are infused back into the bloodstream to find and kill cancer cells.
CAR T-cell therapy can help even advanced cases of some types of cancer to regress completely, but it doesn't work in everyone. Researchers have been working to identify factors or "biomarkers" that can help predict when CAR T-cell therapy will work.
A research team led by Drs. J. Joseph Melenhorst and Joseph Fraietta of the University of Pennsylvania looked at whether gene activity in T cells could identify which people with chronic lymphocytic leukemia (CLL) will benefit from CAR T-cell therapy. CLL is a type of cancer in which the bone marrow makes too many lymphocytes (a type of white blood cell). Clinical trials have shown that CAR T-cell therapy has long-lasting benefit in about one of four patients with CLL.
The scientists collected T cells from 41 people with advanced CLL who had received at least one dose of CAR T-cell therapy. They measured and compared gene expression—which genes are turned on and at what levels. The study was supported by NIH's National Cancer Institute (NCI). Results were published online in Nature Medicine on April 30, 2018.
The gene expression profiles of CAR T cells from people whose leukemia regressed after CAR T-cell therapy were markedly different from those of people whose leukemia continued to spread after treatment. This led the researchers to ask whether there were differences that could be detected in the T cells originally collected from the patients.
The scientists identified a subset of T cells (CD45RO–CD27+CD8+) that were more likely to produce successful CAR T cells. When tested in eight different patients before CAR T-cell therapy, this biomarker correctly predicted all four patients whose leukemia would go into complete remission. 
These results need to be verified in larger studies. If confirmed, this biomarker could potentially be used to pick the most robust T cells for further engineering. It could also determine in advance whether CAR T-cell therapy is the best option for a patient.
"The ability to select patients most likely to respond would have a tremendous clinical impact, as this therapy would be applied only to patients most likely to benefit, allowing patients unlikely to respond to pursue other options," Fraietta says.
In the future, techniques for genetically engineering cells may grow more advanced. These findings suggest ways to enhance T cells prior to CAR T-cell engineering and further improve immunotherapies.
—by Sharon Reynolds
Related Links
References: Determinants of response and resistance to CD19 chimeric antigen receptor (CAR) T cell therapy of chronic lymphocytic leukemia. Fraietta JA, Lacey SF, Orlando EJ, Pruteanu-Malinici I, Gohil M, Lundh S, Boesteanu AC, Wang Y, O'Connor RS, Hwang WT, Pequignot E, Ambrose DE, Zhang C, Wilcox N, Bedoya F, Dorfmeier C, Chen F, Tian L, Parakandi H, Gupta M, Young RM, Johnson FB, Kulikovskaya I, Liu L, Xu J, Kassim SH, Davis MM, Levine BL, Frey NV, Siegel DL, Huang AC, Wherry EJ, Bitter H, Brogdon JL, Porter DL, June CH, Melenhorst JJ. Nat Med. 2018 Apr 30. doi: 10.1038/s41591-018-0010-1. [Epub ahead of print]. PMID: 29713085.
Funding: NIH's National Cancer Institute (NCI), Stand Up to Cancer Phillip A. Sharp Innovation in Collaboration Award, and Novartis.