You are here
April 11, 2023
Buprenorphine use in the emergency department safe for people who use fentanyl
At a Glance
Researchers found that buprenorphine can be safely started in the emergency department by people who use fentanyl either alone or with other drugs.
Wider use of buprenorphine could help reduce the growing number of overdose deaths caused by fentanyl.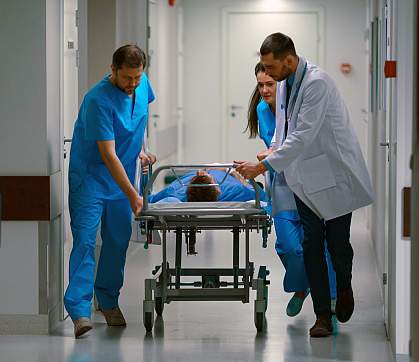 Gorodenkoff / Shutterstock
Deaths from drug overdoses continue to climb dramatically in the U.S. They more than doubled between 2015 and 2021, to reach more than 100,000 a year. This spike has largely been driven by the use of opioids, including powerful synthetic opioids like fentanyl.
Prescription fentanyl is produced legally and used for severe pain. But an increasing amount is made and distributed illegally. It may be sold on its own or mixed with other illicit drugs. Fentanyl is highly potent—up to 50 times more potent than heroin. People who stop using it can have severe withdrawal symptoms.
Past studies have found that high doses of a medication called buprenorphine can be safely used to treat opioid withdrawal in the emergency department. This strategy can provide symptom relief within a few hours. Providing quick relief from withdrawal and opioid craving can help people transition more easily to outpatient drug treatment.
However, small studies have raised the concern that high doses of buprenorphine may not be as safe for people who use fentanyl. Doctors have been particularly concerned about triggering a reaction called precipitated withdrawal. This is a debilitating experience that includes symptoms like aches, nausea and vomiting, diarrhea, and abdominal cramps. It can occur within two hours after the first dose of buprenorphine.
An NIH-funded research team led by Dr. Gail D'Onofrio from Yale University has been conducting a large clinical trial of two different ways to give buprenorphine. The trial includes people who visited one of 28 emergency departments in diverse areas of the U.S. Between 2020 and 2022, 1,200 people with moderate to severe opioid use disorder joined the trial. About half received extended-release buprenorphine injections. The other half received the drug as a tablet or film that dissolves under the tongue.
As part of the ongoing trial, the researchers examined the incidence of precipitated withdrawal among people who received buprenorphine. Results were published on March 30, 2023, in JAMA Network Open.
Overall, only 9 out of the 1,200 people—or less than 1%—in the study experienced precipitated withdrawal after starting buprenorphine. About 70% of the study participants used fentanyl. When accounting only for people who used fentanyl, the rate of precipitated withdrawal was still around 1%. This was similar to the rate seen in studies of people who used buprenorphine to reduce craving for heroin or prescription opioids.
More than 85% of those who started buprenorphine in the emergency department engaged in follow-up care. After a visit to the emergency department, further interactions with the health care system are needed to guide people with opioid use disorder to treatment that can help them quit.
"We are in an overdose crisis, and we need to deploy every tool we have to help address it," says Dr. Nora D. Volkow, director of NIH's National Institute on Drug Abuse. "The emergency department is a crucial care setting for people with substance use disorders. This study provides further evidence that all emergency department physicians can and should be using buprenorphine to help individuals take the first steps into treatment and toward recovery."
Related Links
References: Incidence of Precipitated Withdrawal During a Multisite Emergency Department-Initiated Buprenorphine Clinical Trial in the Era of Fentanyl. D'Onofrio G, Hawk KF, Perrone J, Walsh SL, Lofwall MR, Fiellin DA, Herring A. JAMA Netw Open. 2023 Mar 1;6(3):e236108. doi: 10.1001/jamanetworkopen.2023.6108. PMID: 36995717.
Funding: NIH's National Institute on Drug Abuse (NIDA) and Helping to End Addiction Long-term® (HEAL) Initiative.