You are here
October 4, 2022
Daily multivitamin may improve cognition in older adults
At a Glance
In a clinical trial, cocoa extract did not improve cognitive function in older adults, but a daily multivitamin did.
The results suggest a way to protect cognitive function as people age, but further research is still needed.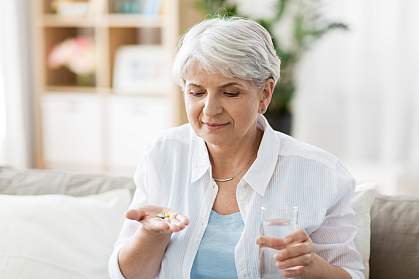 Ground Picture / Shutterstock
Alzheimer's disease and related dementias affect more than 46 million people worldwide. Safe and affordable treatments to prevent cognitive decline in older adults are urgently needed. In response to this need, certain dietary supplements have been touted as having protective effects on cognition.
Normal brain function requires various vitamins, minerals, and other nutrients. Deficiencies in these nutrients may increase the risk for cognitive decline and dementia with age. Yet clinical trials of individual nutrients' effects on cognition have yielded mixed results. Prior research suggests that flavanols in particular—compounds found in high levels in unprocessed cocoa—might benefit cognition.
Much of the research on flavanols was based on observational studies, rather than clinical trials. And previously, the effects of a multivitamin on cognition in older adults had been studied only in a few short clinical trials (less than 12 months) and a single longer trial that included older male physicians.
An NIH-funded research team led by Drs. Laura Baker and Mark Espeland at Wake Forest University School of Medicine aimed to fill the gaps in our understanding of these supplements' effects on cognition. They examined more than 2,200 participants, ages 65 and older, who enrolled in the study from August 2016 to August 2017. The participants' average age was 73.
Participants were given a cocoa extract supplement and/or a multivitamin-mineral supplement daily for 3 years, or an inactive placebo for comparison. They completed a battery of cognitive tests over the phone at the beginning of the study and once a year afterward. The researchers evaluated participants on global cognition (a wide range of cognitive measures), memory, and executive function (attention, planning, and organization). Results appeared in the journal Alzheimer's & Dementia on September 14, 2022.
The team found no difference in global cognition between those who took cocoa extract and those who did not. But participants taking the multivitamin had higher global cognition scores than those who didn't. The improvement was most pronounced in those with a history of cardiovascular disease. Significant improvements with daily multivitamin use were also seen in memory and executive function. Cocoa extract had no effect on either.
The results suggest that a safe and affordable daily multivitamin-mineral supplement might improve cognition in older adults or protect cognitive health with age. Yet the researchers caution that the results, while promising, are still preliminary.
"It's too early to recommend daily multivitamin supplementation to prevent cognitive decline," Baker says. "While these preliminary findings are promising, additional research is needed in a larger and more diverse group of people. Also, we still have work to do to better understand why the multivitamin might benefit cognition in older adults."
—by Brian Doctrow, Ph.D.
Related Links
References: Effects of cocoa extract and a multivitamin on cognitive function: A randomized clinical trial. Baker LD, Manson JE, Rapp SR, Sesso HD, Gaussoin SA, Shumaker SA, Espeland MA. Alzheimers Dement. 2022 Sep 14. doi: 10.1002/alz.12767. Online ahead of print. PMID: 36102337.
Funding: NIH's National Institute on Aging (NIA); Mars Edge, Mars, Inc.; Haleon plc.