You are here
January 25, 2022
E-cigarette use may lead some to quit traditional cigarettes
At a Glance
Cigarette smokers who had no plans to quit were more likely to quit smoking cigarettes if they started using e-cigarettes.
A better understanding of the unintended effects of e-cigarette use may help inform strategies to encourage cigarette smokers to quit.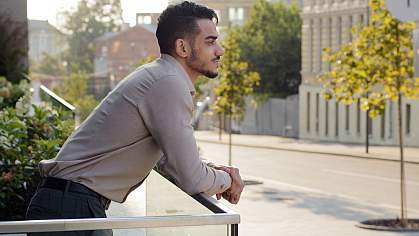 MAYA LAB / Shutterstock
The health hazards associated with cigarette smoking are well known. These include lung disease, cardiovascular disease, and cancer. Electronic cigarettes use battery power to heat a nicotine-containing solution into an inhalable vapor. In October 2021, FDA authorized the marketing of three e-cigarette products through the Premarket Tobacco Product Application pathway. This pathway requires that a product be appropriate for the protection of public health. FDA has denied hundreds of marketing requests for other e-cigarette products.
Studies have been investigating whether e-cigarettes can help people who smoke to quit traditional cigarettes. Most of these studies have focused on smokers who were already planning to quit. But those with no plans to quit smoking tend to smoke more cigarettes per day and often have the highest risk for poor health outcomes from smoking.
A team of researchers led by Drs. Karin Kasza and Andrew Hyland at the Roswell Park Comprehensive Cancer Center has been examining data collected between 2014 and 2019 in the Population Assessment of Tobacco and Health (PATH) study. PATH is a long-term study of tobacco-use patterns and health outcomes in the United States. It is funded by NIH's National Institute on Drug Abuse (NIDA) and the FDA Center for Tobacco Products.
The team, which includes NIDA and FDA scientists, previously reported that daily cigarette smokers with no plans to quit became more likely to change their plans to quit if they used e-cigarettes daily. In their new study, the researchers examined whether e-cigarette use was associated with quitting cigarette smoking among daily smokers who weren't planning to quit. Results appeared in JAMA Network Open on December 28, 2021.
The researchers looked at 1,600 adults who smoked cigarettes daily, did not use e-cigarettes, and were not planning to quit smoking at the beginning of the study. About 6% quit cigarettes altogether during the study. Another 4.5% reduced their smoking to less than one cigarette a day.
The team compared quit rates between those who took up e-cigarettes and those who did not. Those who were using e-cigarettes daily at the end of the study were 8-fold more likely to quit cigarettes altogether. They were also almost 10-fold more likely to stop smoking cigarettes every day.
No association was observed between quitting cigarettes and less-than-daily e-cigarette use. The analysis accounted for differences in sex, race and ethnicity, age, education, and income. The researchers also controlled for the number of cigarettes smoked per day at the start of the study.
Whether e-cigarette use caused people to quit traditional cigarettes couldn't be determined from the data. Further research will be needed to understand how e-cigarette use may influence people's intention to quit. But the findings suggest that smokers who don't plan to quit should be considered when evaluating the risks and benefits of e-cigarettes.
"We found evidence that the use of e-cigarettes could have a positive impact on this very hard-to-reach group of recalcitrant smokers," Hyland says. "To truly understand the health impact of vaping on the U.S. population, we need to consider those with no intention to quit."
—by Brian Doctrow, Ph.D.
Related Links
References: Association of e-Cigarette Use With Discontinuation of Cigarette Smoking Among Adult Smokers Who Were Initially Never Planning to Quit. Kasza KA, Edwards KC, Kimmel HL, Anesetti-Rothermel A, Cummings KM, Niaura RS, Sharma A, Ellis EM, Jackson R, Blanco C, Silveira ML, Hatsukami DK, Hyland A. JAMA Netw Open. 2021 Dec 1;4(12):e2140880. doi: 10.1001/jamanetworkopen.2021.40880. PMID: 34962556
Funding: NIH's National Institute on Drug Abuse (NIDA); Center for Tobacco Products, US Food and Drug Administration (FDA).