You are here
July 13, 2021
Few are prescribed medications to treat alcohol problems
At a Glance
Medications to treat alcohol use disorder, although effective, are only being used to treat 1.6% of people with the disorder, according to a new study.
The findings show that medications for alcohol use disorder are rarely prescribed, even though approved drugs are available.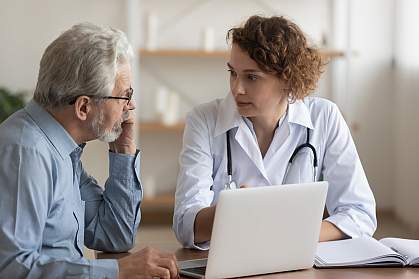 fizkes / iStock via Getty Images
About 14 million adults in the United States have alcohol use disorder (AUD). People with AUD often aren't able to control their drinking despite negative effects on their health, relationships, or job.
Effective AUD treatments are available. These involve talk therapy to help build coping strategies and skills to stop or reduce drinking. It can also include medications. Three drugs have been approved by the FDA to treat AUD: naltrexone (as a pill or long-lasting injection), acamprosate, and disulfiram. These medications can help people with AUD overcome alcohol cravings and avoid resuming problematic alcohol use. All are non-addictive.
Few studies have examined the use of AUD medications nationwide. A research team led by Dr. Beth Han of NIH's National Institute on Drug Abuse (NIDA) studied how commonly AUD medications are used and the factors associated with their use. The study was supported by NIDA and NIH's National Institute on Alcohol Abuse and Alcoholism (NIAAA). Results appeared in JAMA Psychiatry on June 16, 2021.
Researchers analyzed data from nearly 43,000 adults who participated in the 2019 National Survey on Drug Use and Health (NSDUH). This annual survey gathers data about prescription and illegal drug use, as well as information about mental illness and mental health care. The 2019 NSDUH was the first national survey to include questions about the use of medications for AUD.
The analysis found that about 5.6% of adults (or 14.1 million people) in the United States in 2019 had AUD in the past year. Among those with AUD, 7.3% reported receiving any treatment for alcohol use in the past year, and only 1.6% reported using an approved medication for AUD. Among the estimated 14.1 million adults with AUD, only about 223,000 used medications for their disorder.
The use of AUD medications was linked to several factors. Those using medications were more likely to have received mental health care and to report three or more emergency room visits. This suggests that medication use may be associated with more severe AUD, which often co-occurs with other psychiatric and medical conditions. People using AUD medications were also more likely to live in large metropolitan areas, where they may have more access to alcohol use treatment services.
These results highlight the urgent need for improving access to and use of medications among adults with AUD. Medications can be an important tool for overcoming problem drinking. People receiving therapy alone for AUD may also benefit from the addition of medications to their treatment.
"The limited use of medications for treating AUD is a troubling aspect of a 'treatment gap' across all modalities for screening and treating AUD," says NIAAA Deputy Director Dr. Patricia A. Powell, who co-authored the study.  "Far too few people with AUD receive treatment of any type, including medications."
"We need to find a way to make these medications a more routine part of clinical care," says NIDA Deputy Director, Dr. Wilson Compton, senior author on the study. "To increase uptake of these medications, we must educate people with alcohol use disorder that effective medications do exist, and help them recognize their symptoms and engage with evidence-based treatments."
—by Erin Bryant
Related Links
References: Use of Medications for Alcohol Use Disorder in the US: Results From the 2019 National Survey on Drug Use and Health. Han B, Jones CM, Einstein EB, Powell PA, Compton WM. JAMA Psychiatry. 2021 Jun 16. doi: 10.1001/jamapsychiatry.2021.1271. Online ahead of print. PMID: 34132744
Funding: NIH's National Institute on Drug Abuse (NIDA) and National Institute on Alcohol Abuse and Alcoholism (NIAAA); Centers for Disease Control and Prevention (CDC).