You are here
March 9, 2015
Peanut Consumption in Infancy Lowers Peanut Allergy
At a Glance
Infants who regularly consumed peanut-containing foods from infancy to age 5 were less likely to become allergic to peanuts.
The study is the first to show that early consumption of peanut products may prevent peanut allergy.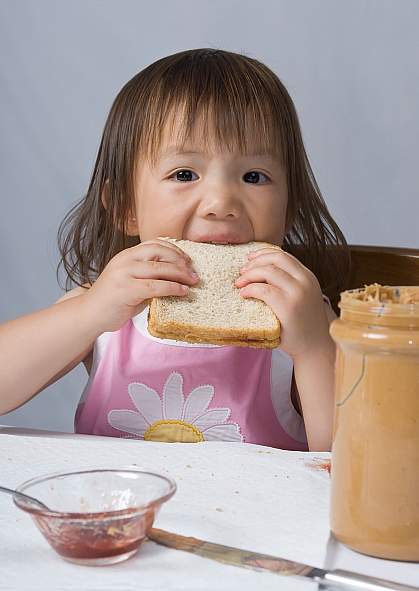 Tom Perkins/Hemera/Thinkstock
A food allergy occurs when the immune system reacts to a harmless food as if it were a threat. Symptoms can range from upset stomach and diarrhea, to hives and itching, to tightening of the throat and trouble breathing. Peanuts are one of the most common foods that cause allergic reactions. Peanut allergy develops early in life, is rarely outgrown, and is the leading cause of death due to food allergy in the United States.
Clinical guidelines previously recommended that infants at high risk for allergy avoid allergenic foods, such as peanuts. Studies showed, however, that food elimination doesn't prevent the development of food allergies, and the American Academy of Pediatrics withdrew this recommendation in 2008.
A research team led by Dr. Gideon Lack of King's College London observed that the risk of developing peanut allergy was 10 times higher among Jewish children in the United Kingdom than in Israeli children of similar ancestry. In the U.K., peanut-based foods are typically avoided in the first year of life. But in Israel, foods containing peanuts are often introduced at around 7 months of age. The researchers hypothesized that regular exposure to peanuts in the diet might help protect against the development of peanut allergy.
To test this theory, the researchers followed more than 600 infants beginning at 4 to 11 months of age. All were considered at high risk of developing peanut allergy because they already had egg allergy and/or severe eczema, an allergic skin disorder.
The infants were randomly assigned to either avoid peanut entirely or to regularly eat at least 6 grams of peanut protein per week (provided in the form of a snack food or as smooth peanut butter). The regimen was closely monitored with recurring clinic visits and telephone calls until participants were 5 years old. The study was funded primarily by NIH's National Institute of Allergy and Infectious Diseases (NIAID). Results appeared on February 26, 2015, in New England Journal of Medicine.
The researchers tested the participants for peanut allergy at age 5. They found that peanut allergy was present in 17.2% of children who had avoided peanuts, but in only 3.2% of the children who had consumed peanuts. This represented an 81% reduction of peanut allergy in children who regularly ate peanut products beginning in infancy.
"Food allergies are a growing concern, not just in the United States but around the world," NIAID Director Dr. Anthony S. Fauci says. "For a study to show a benefit of this magnitude in the prevention of peanut allergy is without precedent. The results have the potential to transform how we approach food allergy prevention."
The researchers will continue to follow the children to determine if protection against peanut allergy remains once children stop consuming peanut products. "Because there are risks, parents of infants and young children with eczema or egg allergy should consult with an allergist, pediatrician, or their general practitioner prior to feeding them peanut products," Lack notes. 
Related Links
References: Randomized trial of peanut consumption in infants at risk for peanut allergy. Du Toit G, Roberts G, Sayre PH, Bahnson HT, Radulovic S, Santos AF, Brough HA, Phippard D, Basting M, Feeney M, Turcanu V, Sever ML, Gomez Lorenzo M, Plaut M, Lack G; LEAP Study Team. N Engl J Med. 2015 Feb 26;372(9):803-13. doi: 10.1056/NEJMoa1414850. Epub 2015 Feb 23. PMID: 25705822.
Funding: NIH's National Institute of Allergy and Infectious Diseases (NIAID); Food Allergy Research and Education; Medical Research Council and Asthma UK; United Kingdom Department of Health, through a National Institute for Health Research comprehensive Biomedical Research Center award to Guy's and St. Thomas's NHS Foundation Trust, in partnership with King's College London and King's College Hospital NHS Foundation Trust; National Peanut Board; and United Kingdom Food Standards Agency.